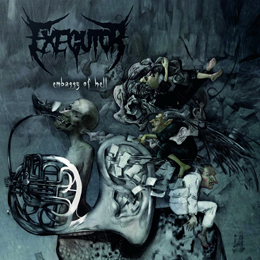 Release Date:
Friday, February 20, 2015
My first acquaintance with Belarussian act Exegutor was when I heard the Dive Sessions EP, the band's first release via Satanath Records (review updated on September 21st 2014, by the way, so check it out). Apparently they did release an album before, Cure For Dull, but I still haven't had the opportunity to check that one out. The quartet did record this new stuff at the Mapletree Studio with Oleg Domanchuk taking care of the main recording, and Dmitri Mikulich taking care of mix and mastering at his own studio. The thirteen tracks, which include a cover (which I will come back to in a minute, of course), last for half an hour, but seen the old schooled Death / Groove / Grind-approach, tracks with a rather short length are about standard. Why not anyway…
Embassy Of Hell has, I think, definitively progressed in comparison to the older material. It's not that they aren't recognizable anymore, but the balance Death Metal versus Grindcore now bends over towards the first. Of course there are still lots of grinding elements throughout the whole album. Pantheon, for example, is an energetic piece of punky Crust-Grind. That Punk attitude reappears several times, yet in lullabies like Beerdrinker it's almost emotive to notice. But when coming back to that migration from Grind to Death: pieces like Pyro Is Not A Crime, Karahod or opener Smoke Of The Water bring hard-hitting and ultimately grooving Death Metal Core. It's not that surprising, yet it's remarkable though. There is more experimentation and more addition of Groove too, this time, though the main structures are still based on tradition and that ol' skool vibe.
Finally a word about the cover song I mentioned in the first paragraph: Black Metal of Venom in a truly Punk / Grind edition, and believe it or not: it's great to hear. And when, suddenly, Mayhem penetrates the fun, I am truly getting excited. Maybe this piece might be the highlight of Embassy Of Hell???