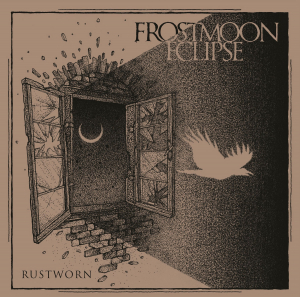 I won't go too deep at all into this band's biography / discography, because you do know this Italian act for sure (in two years, these guys will celebrate their three decades of existence!), and it would bring me too far. I'll go to the content immediately, and this time it deals with a compilation, actually, i.e. a collection of new and live tracks gathered as Rustworn.
For this release, Frostmoon Eclipse and Immortal Frost Productions joined forces again. At the end of 2019, this collaboration did result in a first mutual effort, i.e. the truly stunning release Worse Weather To Come. Anyway, Rustworn gets labeled as an EP, yet seen its length of thirty-four minutes, one might start a discussion about it. …but not here, not now…
Rustworn consists of two new elegies and three live recordings. Besides the digital availability, Rustworn gets released as well on compact-disc, being a four-page edition pressed on five-hundred (physical) copies. It comes with truly remarkable (cover) artwork (both the visuals as well as the monotonously-used color-work are simply amazing!), courtesy of this Belgian label's closely collaborating artistic partner WrathDesign aka Marko Jerkovič (think: Darkest Hour, Gurthang, Lichtblick, Antzaat, Muert etc.), in partnership with View From The Coffin once more (cf. the former release). I have no idea whether a vinyl edition is foreseen in the future, but until now we'll have to do with the CD-version or the digital one.
Claudio and his team (*) did record both new tracks, i.e. the title-song and Relentless, Circling, at the Beastcave studio, with engineering, mixing and mastering duties taken care of once more by the band's bassist Davide. That opening title track opens with a short yet epic semi-acoustic introduction, soon joined by a wide range of percussions and then evolving towards the band's characteristic timeless elegance, i.e. a universal form of melodious, heroic and rhythmic Black Metal. That interplay in between semi-acoustic fragments (with truly cool bass-lines) and energetic blackened excerpts sounds honest, emotive and somehow old-schooled too. The latter, that Old Style attitude, especially refers to the rather Pagan / Epic / Viking oriented scene from two decades ago – not the nationalistic warlike scene, yet rather the semi-nostalgic and victorious trend. The drum patterns rumble and roar (with even progressive-like interludes, like in the aforementioned acoustic intermezzi), accompanied by a melodious lead-string section and little soar, deep-throated screams. It gets interspersed by atmospheric passages, also including those magnificent and technically high-skilled rhythm section assistance, and despite the limited length (this track lasts for less than five minutes), there is a huge deal to experience. Quite comparable, though not identical, is Relentless, Circling, even-though this piece opens in a catching, even grooving way. Soon, however, things turn towards a victorious vigor, unrelentless and convinced. Her too, a permanent variation, naturally fluent, creates a stunning concept: slower interludes, epic chapters, intolerant and fast-paced parts, and (semi) acoustic fragments go hand in hand with that organically cohesive song-writing and execution. And of non-deniable importance is these songs' professional sound-quality, being unpolished in roughness, yet well-balanced in mix.
(*) Claudio Alcara, founding member, guitars and song-writing + long-time collaborator Gionata Potenti, drums (known from a couple of thousand of bands and projects) + Lorenzo Sassi, vocals & lyrics + Davide Gorrini, bass guitars & studio recording duties
The three live tracks were recorded during a gig in the city of Varese (Italy) on May 28th 2018. Devoured is taken from the stunning split Death To Thy World (previously part as well from the A Ticket To Nowhere 7"EP from 2011); Hell Thousandfold and Torn Apart By The Withering Voices Of Deceit initially were on 2016's The Greatest Loss, as you might know. For a live recording, the quality of the sound is very fine, even impeccable. Background noises were filtered, I guess, and without adding a pathetic and exaggerated mix, it all does sound naturally lively for sure. And the quality of the performance, well, what can I say. It is so clear that these guys do perform together for such long time. They are skilled musicians for sure, but their skills behind the walls, in the studio, are one thing; playing live so technically flawless too is deeply remarkable. For a live experience, it somehow bewitches. I mean, the combination of excellent and untarnished playing skills, the intoxicating atmosphere, a satisfying, almost immaculate sound result, and – let's be honest – simply cool sonic material, gets canalized into aural majesty.
Awaiting their upcoming newest studio recording, this compilation / EP is a necessary recommendation for every 'fan' of this Italian band specifically, and all adepts of Melodic Black Metal in general. Rustworn is such 'interlude' in between two studio works that trespasses the need to 'fill' the gap in time; it is a worthy release in every sense!
https://www.shop.immortalfrostproductions.com/product/frostmoon-eclipse-rustworn/
https://www.immortalfrostproductions.com/releases/frostmoon-eclipse/frostmoon-eclipse-rustworn-cd-digital/
https://www.concreteweb.be/reviews/frostmoon-eclipse
https://frostmooneclipse.bandcamp.com/album/rustworn-ep-2022