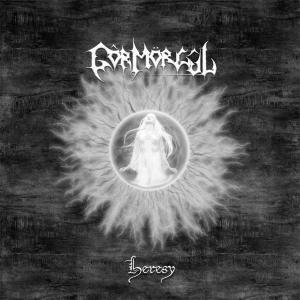 Finally! After five years of silence, Italian combo Gôr Mörgûl return with their second full album, called Heresy. Okay, I am sort of exaggerating, for the band released an EP in 2014 (Ruins On The Icons Of God). This quartet from the isle of Sardinia was formed in 2007, and did record this new material in very early 2015. Heresy gets released via one of my favourite labels from Russia, sorry, from our globe, being Satanath Records, this time in co-operation with the somewhat underestimated Colorado-based Death Portal Studio.
With Heresy, Gôr Mörgûl bring half an hour of fast, blackened and technical Death Metal, highly inspired by the scene from Poland. Behemoth, Vader, Hate, Decapitated, Yattering, Calm Hatchery, you know, that kind of brain-damaging beauty…
Actually, the album totally lacks of originality, but then again, seen the qualitative aspects, I do not give a sh*t about the non-original approach. Except for the machinal drum patterns, the whole experience mercilessly and intolerantly smashes skull-less brains with a rusty sledgehammer, extra supported by a monstrous sound quality. Within the high-tech execution, I can't find any form of infantile exaggeration, and Andrea Murgia's grunts are truly of a great level. But so, as a matter of fact, is the better part of the song writing too.
I'll keep it short, but it's quite simple: if you do appreciate the Polish Tech-Death / Blast scene, you know what to do. If you do not like that scene, you'll also got the message, I guess…