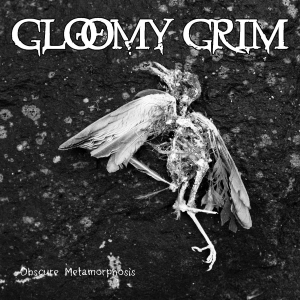 Release Date:
Saturday, October 20, 2018
Two years and something after their last full-length studio album (The Age Of Aquarius, Satanath Records and Murdher Records), Finnish cult-horde Gloomy Grim returns with a new recording. In the meantime, there also was a compilation, compiling both first demos (Fuck The World, War Is War!, Symbol Of Domination Productions and Murdher Records) (see: http://www.concreteweb.be/reviews/gloomy-grim). Once again released via Murdher Records and, this time, GrimmDistribution (together with Satanath Records and Symbol Of Domination Productions, GrimmDistribution forms one cohesive partnership), Obscure Metamorphosis is a mini-album with four rather short pieces. The compact disc comes in an edition of 500 copies with an eight-page booklet that includes the lyrics.
Agathon and his crew recorded these four new songs at Hellhouse Studio (with Micko Hell, who also played all guitars on this album), except for the drums (performed by Agitator). These ones were recorded at the UG Studio (just like the album's mix).
Those trusted with the sonic presence of this outfit from the Land of a Thousand Lakes do know that Gloomy Grim trespass the limitative borders of the Black Metal scene. That was the case more than twenty years ago, and this still counts. Take opener Crawling Saviour, for example, being a monstrous epic with a harsh rhythm section, wonderful leads (tremolo riffs and solos), a huge variety in speed (with fast and f*cked-up excerpts and low-tuned decelerations), mesmerizing melodies and varying vocals. The rhythm expresses the misanthropic, even isolationistic attitude behind this great opening song.
Stars Above Me is quite mysterious, with a mesmerizing lead melody, pounding rhythm support and orchestral passages. This pessimistic and negative track acts like an Inner Eye, looking at futility, despair and the meaningless of human life. Damn, what an aural experience. Welcome, Age of Aquarius!
The Lord Of Light, the third opus on this mini-album, is a nasty, filthy one. In a morbid way, it thrashes, leaving no air to breathe, no portal to escape. Incredible it is, such diversification in just a couple of minutes, yet executed in a mostly organic and cohesive manner.
The conceptual recording ends with Impressive Physical Sight, which starts with a cool bombastic-orchestral introduction. It is a very intense, overwhelming track with excellent drum patterns, great riffs, appropriate synths, the usual screams and growls, and once again, a huge dose of variation in structure and tempo.
In its totality, Obscure Metamorphosis is a very firm and coherent sonic journey, focusing on man's physical place on Mater Terra and the confrontation with the absurdity of our existence. Humanity is just a small passage through time, but it's a disastrous and pathetic passage for sure. This EP gives you that impressive physical sight in order to levitate and see yourself without a shell.