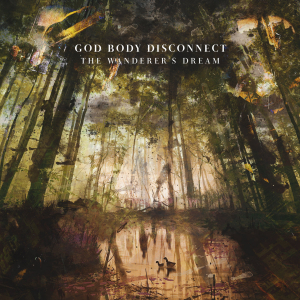 Bruce Moallem aka God Body Disconnect, and Cryo Chamber do have a long mutual history going on. Within this love story, The Wanderer's Dream is like a next phase. And it is a mostly personal, almost emotional one. I come back to that impression soon again.
First this, as if it is a static evidence to do: the actual release itself: digital or compact disc; the latter limited to four-hundred copies in six-panel digipack, with fine artwork being courtesy of Keosz' Erik Osvald. Total running time: forty-seven minutes. Mastering by label owner Simon Heath (think: Sabled Sun, Atrium Carceri and many more). Okay, now it's time for the next chapiter…
When going through the biography of this album, I have the impression that this newest God Body Disconnect is like a new stage to his creator, or like a closing one, finishing the past definitively and irrevocable. Composer (and producer) Bruce Moallem did struggle with some inner demons for a while (a long while, almost too long), and he tried to express these ideas and thoughts once more in an aural form of canalization. I do recognize quite some of his ideas and thoughts, about irrational conceptions as well as self-betrayal, or the pain you cause to your beloved ones and the pain you're living with every single day (yet still ignoring it). Actually, don't we all; no seriously, don't we all?!… That self-awareness of Bruce eventually resulted in The Wanderer's Dream, a gathering of seven individual yet strongly related pieces with titles that already do tell an own story. For sure it does give an idea as from the start…
This is a short story that lasts for about forty-seven minutes, described as 'a personal journey on a sea of droning atmospheres' and, as stated by the label, 'recommended for fans of atmospheric walls of sound and blissful textures'. Twice an applicable approach, for The Wanderer's Dream indeed comes with a somewhat beatifical attitude and beautiful, moony spheres on inner piece and meditative quietude. The whole self-therapeutic travel is built around floating soundwaves; tranquil, ethereal, dreamlike and mesmerizing, with additional sounds processed into the total experience (like samples of water in the first track, or that static noise in The Ghost That Dwells Within). Long-stretched and lingering waves float by, integer and serene, forming melodies that accompany the listener's dreamworld to dimensions where light and space collide in harmonious equilibration, gently and tenderly. Once in a while, a modest bass-line or the aforementioned samples join the aural landscapes, adding that fine and well-thought variety to this vast soundscape of inner exploration and deepening. God Body Disconnect's ambient drones overwhelm and astound. The audible side isn't exactly extravert in execution, yet the message is not introvert either.
A remarkable thing to notice is that God Body Disconnect, despite the concept, does not fade away in melancholia or self-pity / depression. The album is a message from its creator to himself, and to same-minded spirits, focusing on confidence, consciousness, persuasion, perseverance and fortitude. There's pain but no resignation; there's remorse yet no regret. It is the soundtrack for a healing process.
The Wanderer's Dream for sure is God Body Disconnect's most meticulous and comprehensive work to date, smoothly different from the past, and simply overwhelming, veiling the listener in a sweet nebula of intrinsic imperturbability, existential awareness and soothing peace! A sonic beauty it is…
https://cryochamber.bandcamp.com/album/the-wanderers-dream
https://www.youtube.com/watch?v=DzvPWbI9eYc
https://www.concreteweb.be/reviews/atrium-carceri-cities-last-broadcast-god-body-disconnect