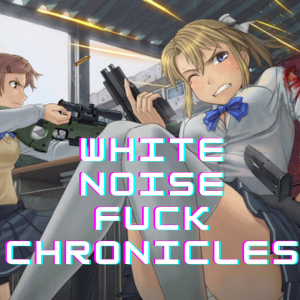 Album Title:
White Noise Fuck Chronicles
Release Date:
Friday, December 24, 2021
Noise and power in a golden package, White Noise Fuck Chronicles is the newest effort by Leeds, UK, based one-man army Gold, a project by a crazy human being (at least I know he's human), here known as D¥$FUNCTion. Quite recently Gold surprised (okay, it might also be announced as 'quite recently Gold "overwhelmed"…') with the static monument Premium (link: see below), and at the very end of December 2021 this project returned with a remarkable new piece, inspired by Anime, and more specific an imaginary series drenched in blood and semen, or 'White Noise, Sex, and Violence'.
Once again, this material comes from sources 'both legally and illegally', carefully constructed – and deconstructed / destructed – by the musickian behind the project. The result gets sort of build up when focusing on the availability of the release. Each Friday, as from the second half of November, a 'song' got available on the project's BC-page, and the whole adventure did reach its finalization at the feet of the Christmas tree's celebration weekend (I know that this sounds absurd, but wait until you experience this surreal collection of Christmas lullabies).
Six episodes made it to the final result, like a gathering of found sounds, eclectic tunes, harsh walls of noises, and electronic machinery-rape. And damn, that artwork, that sadistic and, at the same time, masochistic visual realization does fit so deeply to the concept of erotism and aggression.
Anyway, as from the first episode, one might enjoy the great mixture of static noises, dissonant sounds and several samples. The latter deal with thunder and pouring rain, crying, screaming and moaning female voices (hello anime) and male vocals, machine gunfire, and undefinable and weird stuff from unknown sources. It's a cool yet somehow perverted interplay in between all these additional sampled elements at the one hand, and the monotonous yet hypnotizing Static Noise stuff at the other. And despite the length of exactly ten minutes (which goes for all episodes on White Noise Fuck Chronicles, by the way), it never irritates or bores. Actually, it attracts and seduces.
Part two goes on in a very similar way after that first, eh, 'song' (haha, what a lapsus), with an even more expressive participation for anime-inspired sound-sources. Still represented on a foundation of nihilistic constants and brutally penetrated by sounds of bad weather (you can even feel and hear the electricity of whole-sky-infecting lightning) and barrage-salvo's, the disturbing anime-inspired voices are more pronounced; and therefor more explicitly represented. …you know, the hentai-thing in all its expressive beauty…
And so this album continues. Since all six parts are basically alike, White Noise Fuck Chronicles must be seen as one huge sonic experience / experiment, even-though there are some nicely hidden and subtly executed additions once in a while. Torture and pleasure go hand in hand and this album does not avoid, or hide from, this unambiguous concept of passion and pain. Once again you won't participate in a world of omnifarious aural artistic exquisiteness, yet still you might deeply rejoice in a sophisticated sonic monument that lacks limitation or confinement. All hail dysfunctionality!
https://goldnoise.bandcamp.com/album/white-noise-fuck-chronicles