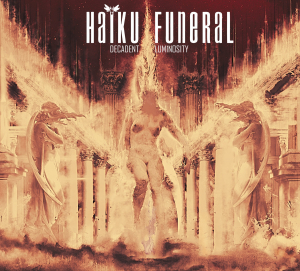 Release Date:
Wednesday, October 31, 2018
If I am not mistaken, Haiku Funeral were created in 2008 in the south of France by two guys, Dimitar Dimitrov (vocals, electronics, keyboards, hailing from Bulgaria) and William Kopecky (fretless bass, vocals, sitar; originating from the U.S.) under the influence of hallucinogenic and psychotropic pleasure. After three official recordings in the period 2008-2010, the duo signed to Aesthetic Death, and those trusted with this mind-blowing label will not be surprised. It resulted in the release of three recordings: Nightmare Painting (2012; link for that review below), Hallucinations (2016; idem, see below for the grandiose and ultra-professional review), and Decadent Luminosity. The latter actually is a double-album, released in an extremely attractive package: a three-folded digipack with a twelve-page booklet, including nice artwork and some lyrics (in English and Russian, as well as some Swedish and Latin). The material was recorded and mixed over a period of several years (2012-2018) at the Daemonicreation Studio in the duo's hometown (Marseille), and everything got mastered by – well, you can guess by whom, don't you – Greg Chandler himself at his (legendary, or is that somewhat exaggerated?) Priory Studio in the U.K.
I can't speak about the earliest works of this duo (well, actually I can, yet seen that I haven't heard that material, it might be better to shut up…), but I can compare this newest epos with both former albums on Aesthetic Death. I was not convinced with Nightmare Painting (subjective information, of course), but I was thrilled by the evolution, cf. Hallucinations. The progression was enormous, and the evolution and diversification were huge. So, what about this double-album? Well, once again it took me several listens before I was able to write down some first mental fragments. And still I am aroused and perplexed when plunging into this sonic mud. But I can assure you (attention: this too isn't but a personal, and therefor subjective, element) that Decadent Luminosity is, once again, a new chapter, a next step towards a higher level.
As a matter of fact, both discs, indeed separated as Decadent (disc 1) and Luminosity (disc 2), do differ from the past once more, and from each other too. Both of them clocking almost three quarters of an hour (each, bringing the total running time up to about eighty-seven minutes!), this aural experience is another brain-f*cker, another mentally disturbing journey through psychotropic dimensions.
----------
The first disc, Decadent, brings, and then I am citing the band, blackened industrial darkness. Well, I think that might sort of cover the whole thing, but I can do better: dark-cinematic & militant Horror Electro Orchestra. The material combines pounding electronica with martial beats, eerie synth lines, screeching strings, psychedelic sound collages, tribal excerpts, grooving dub basses, orchestral passages, and ominous, summoning semi-spoken vocals. For some reason, I also notice some hints of the German Deep-Gothic scene from the late Eighties / early Nineties within the drum patterns - for example in Scientia Intra Satana (which includes a marvellous, quite spooky and gloomy organ-alike orchestration towards the end) - though I cannot point one act specifically. Fabulous is the organic injection of unique vocalisation, performed by guest singers (cf. the operatic female voice in The Crown Of His Glory, or those torturing / tortured screams, like in нимA, adding sort of a blackened touch.), and the additional (session) instrumentation, like violin (sometimes atmospheric, then again gipsy-ish in use), sitar, tribal percussion (Dreaming Kali In The Temple Of Fire, based on a huge dose of Middle-Eastern hallucinogenics), or saxophone. Remarkable how electronized Music can add these things in such natural way. There is a huge dose of chaos and syncope, yet the whole is ingeniously well-structured.
Call it a frenzy and disturbing hybrid of Diabolos Rising, Laibach, GGFH, Swartalf and Ensoph, yet with a very own-faced approach. Dark-cinematic & militant Horror Electro Orchestra, I have to get royalties for it…
----------
Disc two, Luminosity, sounds less militant, yet at least as gloomy and asphyxiating. As from the ritualistic opening sequences of Lacerate The Light (Eros goes maniacally SM…), these six pieces show an extremely chilly approach. When talking about this tribal track specifically, the voices – yet this is purely informative – remind me of Tomas Pettersson's (Ordo Rosarius Equilibrio) or Aldenon Satorial's (Coph Nia). This second part got labelled as ritual satanic ambient, and here too I do agree, yet once again I am oh so full of inspiration: what about esoteric & ominous Diabolical Ritual Drone Ambience? Indeed, I thought so… No, seriously, Luminosity gathers eerie sound-collages, elements from Horror Ambient, Meditative Ritual Music, cosmic soundwaves and Lovecraftian Drone. Take a piece like Vision Pit, for example, which is based on different layers of long-stretched synth-mesmerism, a whole scala on percussion instruments, oppressive noises, droning strings and horrific voices. This second part too is injected by additional instrumentation (sitar, sax, …) and vocals (spoken words this time, instead of harsher voices), but it totally lacks of the electronic beats and high-energetic power. Instead, demonic invocations, erotic tension, poetic transcendence, suffocative black magics and inevitable doom take over the general atmosphere. Damn, this material is so intense, despite the 'calmer' execution; it violently rapes and, at the same time, it sweetly caresses your soul.
Luminosity is like the hideous bastard child of Shibalba, Aghast, Coph Nia, Moloch Conspiracy, Testphasen Negativ or Martyria.
----------
Production-wise, the balance of roughness (oh, I adore the overwhelming, semi-chaotic sound) and well-engineered professionalism lifts the whole up to a higher level. If it were too clean, it would feel like the opposite of what turns me on; and in case of an under-produced result, this stuff would sound ridiculous. Esoteric & ominous Diabolical Ritual Drone Ambience for the brave ones amongst us…
Well, in conclusion – no, I think it's clear that Decadent Luminosity indeed is a huge step (forward). It's purely personal, of course, but I think that this newest Haiku Funeral is the best thing this duo did during their decade of raison d'être. Both parts, Decadent and Luminosity, have something unique, which is enthralling, inspiring, breath-taking, throat-grabbing. It's like sex for one's eardrums…
https://www.aestheticdeath.com/releases.php?mode=singleitem&albumid=3851
https://haikufuneral.bandcamp.com/album/decadent-luminosity
http://www.concreteweb.be/reviews/haiku-funeral
http://www.concreteweb.be/reviews/haiku-funeral-0