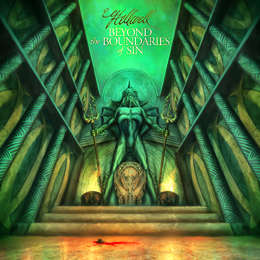 Album Title:
Beyond The Boundries of Sin
Hellwell reminds me of the unique metal constitution Manilla Road, which is the other band that main leader Mark Shelton sings and plays guitar for.
Hellwell, the name of the project, probably is needed to show that this is more than just the brainchild of one person. Shark plus keyboard player/ bassist E. C. Hellwell (whom the band is now named after) and drummer Jonny (Thumper) Benson.  With tracks like "Eaters of the dead" and "The heart of ahriman", the material sounds like something left off of Crystal Logic and Spiral Castle, heavy and powerful with plenty of high octane energy. The album, which suffers from a weak production, floats somewhere between the aforementioned Manilla Road and Hammond organ rock aka Deep Purple, Atomic Rooster, Jacula and Uriah Heep. The opener "The strange case of Dr Henry Howard Holmes" gives you already a good impression of the different moods in Hellwell's music, but the masterpiece on their debut album is the epic "End of days" that uses its more than ten minutes to assault the listener with every metal genre (power-speed-heavy-prog-us) without ever losing cohesion.
It doesn't reach the class of Open the Gates and the Deluge, which were exceptional releases for its decade, but it's nevertheless one of the better Mark 'Shark' Shelton records.