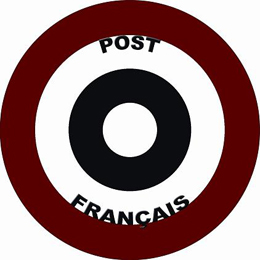 Release Date:
Tuesday, December 2, 2014
There has always been a love-hate relationship in between Punk and Metal. About the 'hate'-part I can be very short: f*ck it. Short enough? About the 'love'-angle, well, just notice that there are, and always have been, hundreds of bands combining both styles, or members being involved in groups from both genres. And don't forget to think about all those 'fans' that do appreciate at least a part of both styles.
However, it's not that usual to have a split in between two acts hailing from each scene. Hippie Nazi are a French Punk collective in the purest anarchist tradition, and Pagan Assault are a one-man outfit by Soleil Blanc' label owner KFD, rooted within the most primitive and raw yet mostly hateful and nationalistic (or is it anti-nationalistic) tradition. Both collaborators combine forces to express their adoration for the République Française, as well as everything that concerns modern and multi-cultural (!) society, government(s), foreign affairs and religion(s). …le pays du vin, du pain, du chagrin…, wasn't that the commercial?...
Post Français opens with eight Hippie Nazi songs, written and recorded in between 2009 and 2012 (the first two, by the way, have been written more recently). The lyrics are very clear and specific, but I recommend you to read and analyse them yourself, for I do not want to go into political matters right here, right now; but you might find some truth in it (or not at all). It's in both French and English, all right?... When it comes to the 'musical' part, I have to say that I was quite surprised (especially when noticing these ones being on a split with Pagan Assault, but there are some links – which I won't focus on right here, right now). When I was still a teenager (the late eighties, you know), one of my best friends used to be a real 'Punk-head', who introduced me to the likes of The Exploited. I knew (but who does not) stuff à la Dead Kennedys or Sex Pistols (no, I won't refer to the Ramones), but I was intrigued by the violence, the persuasion, the purity, the expression of hatred, disgust and anti-about-everything-attitude. I liked it, but I never grew into this kind of material, for the Metal-scene was my kind of thing. But actually, it's great to read, sorry (hehe) to hear this five-piece with their no-nonsense stuff. What Hippie Nazi bring, sonically, isn't but the purest essence of Old School Punk: no-nonsense, no bullshit, no trends, no gimmicks, no remorse, no nothing but PUNK! The false vocals, the simply simplistic riffs and rhythms, the under-produced sound; damn yeah, this is the essence of this genre! One of the things I do adore too is the interesting soloing, another is the rocking energy, or what about the semi-acoustics?... This is DIY-stuff, with explicit lyrics (also taken from field recordings). Evidently the sound is low-budget, lo-fi, lowhatever, but that's one of the attractive elements.
Pagan Assault come up with three older and three new (re-arranged, taken from their split with BlackSStorm, another fabulous and, evidently, peaceful combo) tracks. First of all I want to refer to both former pièces d'Art Anti-Humain, released via KFD's own label, i.e. Requiems For Illusion (see update 12/12/14) and Révolte Contre La Destinée (updated on September 9th 2014). It's at least as punkish and dirty-sounding, yet it has not much to do with the 'aural essence' of Punk Music, at least in its most pure definition (cf. the Hippie Nazi-kind of Punk). This is primitive and nihilistic Underground (Pagan) Black Metal à la Sort Vokter, Ildjarn or Anthropophobe, though injected with quite some Punk-elements à la Hippie Nazi too (search the link…) – cf. a piece like Variation Majeure. There's quite some variation once again, with Sunset Over The Red Mountain, for example, being in complete contrast to Variation Majeure (the first one being extremely slow and raaaaaaw!) (which does not mean that the latter wasn't raw – got my expression? Neither do I). But in case you know Pagan Assault's material, will know what their contribution stands for. No, it's not pretty, and therefor so beautiful (once again, you might understand what undersigned tries to tell if you give yourself the chance, the time, the opportunity to dig deep into this material)…
Skip the crap. If you want something to express your frustrations, a soundtrack that articulates your world vision (which isn't that sweet and beautiful), then this might be played at the background while destroying the temples of the enemy! Or if you just want to canalise your adoration for the White Sun… Ave!