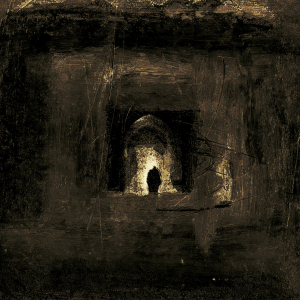 Release Date:
Thursday, September 10, 2020
The light of the moon carried through the earthen doorway. A word from the desert, a word from the mountain, a word found in water. Neither awake nor asleep, the offering quietly transcribed.
Pär and Åsa Boström… I do not think I have to introduce these siblings anymore. I would like to recommend checking out the .net for more info, or visit one of the reviews I did for them or their label (some links on this specific project or their mutual label are included below). I'd rather prefer to go to the core of the sonic essence from this recording immediately.
Andarlīh is this duo's newest recording under the Hymnambulae moniker, once again released via their young yet wonderful Hypnagoga Press label. It is a six-track adventure which clocks about thirty-six minutes, being recorded partly in the city of Umeå, and partly in a subterranean church (!) in the Swedish part of Lapland; more specific: Saint Anna Church, at ninety meters below the surface! The result was mastered by long-time collaborator Frederic Arbour, you know, the human being behind e.g. Visions or Cyclic Law. Andarlīh evidently is available via digital sources, yet there are physical copies too: tape (limited to 100 copies) and compact disc (200 four-panel digipack copies).
This said…
Compared to the former releases, this one too goes on in a comparable way. Why changing a winning team anyway? It's a good thing to see / hear this duo's quest continuing their search for transcendental enlightenment and introspective consciousness. That quest once more gets executed via somewhat minimal(istic) and bleak, even claustrophobic noisescapes and irreal (surreal?), floating soundwaves. The mixture of digital and organic instrumentation (including zither, pedals, harmonium and samples / field recordings) gets canalized towards a symbiosis of mesmerizing Electroacoustic, dreamlike Dark Ambient and ritualistic Drone.
A remarkable elements that makes Hymnambulae distinctive from many other projects within this genre, is the fact that this one is able to create a balance in between light and darkness, in between hypnosis and consciousness, in between spiritual and physical, in between astral and introspective. At the one hand there is that asphyxiating gloom, that poignant and misty all-capturing light-devouring horror, leaving no room to breathe fresh air. Yet then again, at the same time, this project also creates a semi-visionary dimension of transcendence, pseudo-levitating meditation and total resignation. It squeezes the listener unto a tiny box, and it opens portals for spheres undiscovered yet. No, I am not talking about a schizophrenic, incoherent experience, yet about the ability to create a mystic and mysterious soundtrack for doomed souls and forgotten worlds. Deep-tuned basses, droning loops, modestly used additional sounds, eerie waves, wistful ambience and soft-electronic pulsations are ingeniously mingled into another unusual and harsh, yet at the same time intriguing and passionate aural experience.
https://hymnambulae.bandcamp.com/album/andarl-h
https://hypnagogapress.bandcamp.com/music
https://www.concreteweb.be/reviews/hymnambulae
https://www.concreteweb.be/reviews/hymnambulae-0
https://www.concreteweb.be/reviews/bonini-bulga
https://www.concreteweb.be/reviews/aindulmedir