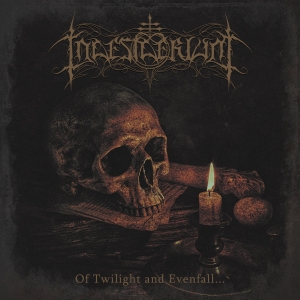 Album Title:
Of Twilight And Evenfall...
Release Date:
Tuesday, October 30, 2018
Indesiderium are a two-piece from Los Angeles, California, formed in 2012 by vocalist / lyricist / bassist / guitarist / composer Atrum Lorde aka Atrum Abbas, and drummer / keyboardist / mixer / master Mattias 'No-Body' Snyder (both of them were colleagues in Gravespawn for quite some time, for your sweet information). They officially debuted in 2015 with the full-length Wanderer Of The Abyssal Plains (self-released). Two tracks from that album made it to a split, called Abysmal Storm, with their brothers-in-arms from Gravespawn. Then everything went silent for a while…
Recently the duo signed to Satanath Records from Saint-Petersburg with the intention to release the sophomore full-length studio album. That one is called Of Twilight And Evenfall…, being released digitally and on compact disc ('regular' edition with four-page booklet, printed in 500 copies). The band brings an impenetrable darkness no light can breach via seven newly written lullabies, which do clock forty minutes. And hey, Gravehill's Hell Messiah contributes as guest solo guitarist on a couple of tracks (the latter being purely informative, yet quite arousing, I think…).
Those trusted with indesiderium's debut will know what to expect, even though I notice a more melodious and somewhat catchier approach. Of Twilight And Evenfall… (an intriguing title it is) brings quite variated, mainly fast and melodic Black Metal with a Northern Second Wave twist, finding inspiration, I think, within the Swedish scene from the Nineties especially. The duo created another epic album which focuses on melody, atmosphere and technicity. In a very effective way (!), the fact that Of Twilight And Evenfall… actually lacks of originality is of no importance. [and for what it is worth: I think that lacking originality does not have to be a negative aspect, as long as 1) the result is not just a copy-paste thing and 2) the result is at least as agreeable as the inspirational sources] Well, this duo offers something that refers to the scene from two decades ago (or little more), but quite fading away lately, so that's something playing in favour of this project for sure. But actually, Indesiderium's Black Metal reminds us of the roots in some way – and that's something we have to be grateful for.
Anyway, their Black Metal is mainly fast, yet with a lot of variation in speed. I mean, there are several blasting outbursts at the one hand, and great decelerations too. The basics are focusing on melody and harshness, nicely combined in an organic manner. The melodious aspects go for the main riffs throughout every single composition. The (lead) guitar lines are of huge importance, but do not underestimate the fine and crafted solos and dual / duelling tremolo riffs. Is this a guitar-based album especially? No, it is not, actually, despite a certain focus on the guitar-laden essence. At least as important, and that's something you may not forget, is the rhythm section, which heavily supports the guitar-based concept of the melodious tracks. The rhythm guitars, bass lines and drum patterns are of a high quality too, and must be hailed too, for without those, the result would sound like a cheap guitar / vocal thing. …which brings me to the vocals of Atrum Lorde. These ones are somewhat shrieking and high-pitched; not the hysterical way (cf. many acts within the DSBM-scene), yet both melancholic and angry. In combination with the instrumental diversification, it's a match-fit! About 95 % goes this way, but there are some more vocal variations too, like a handful of deep growling grunts and harmony chants.
I did not mention the keyboards yet. Well, there are keyboards. So, there you have it… No, seriously, the extremely subtle use of atmospheric synth lines is another surplus. They are not taking a leading role throughout the whole album, but for sure they do strengthen the atmospheric and dreamlike concept when used.
Another fine element is the injection of some epic, even Viking (Black) Metal-inspired moments. Once again this does remind me of the (Swedish) scene from about twenty - twenty-five years ago. Listen to The Conqueror's Return to find out the glorious and victorious approach…
Oh yes, the physical version comes with a bonus track, being a cover song by Dawn (one of the possible influences of Indesiderium), namely The Knell And The World. Like usual, 'the original is always better', but believe me if I dare to pretend that this reinterpretation is almost at least as impressive as the original one.
As said: if you're looking for something totally renewing, you better skip this stuff. But if you can appreciate fine Melodic Black Metal from the mid-Nineties period, inspired by the likes of Mörk Gryning, Midvinter, Lord Belial, Unanimated, Sacramentum, and why not, Emperor, Enthroned or Bathory (the Viking-era), then this band / album is something for you, dear reader…
…or if you want to: Crushing United States Black Metal from below the terrestrial planes, the lightless voids of the abyssal realms. Unholy Black Metal invoked through the ashes of the elders […] through means of astral projection and meditative introspection. You're welcome…