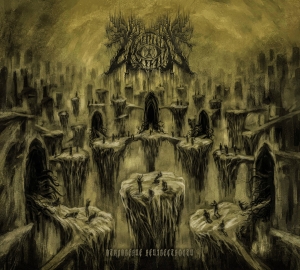 Release Date:
Tuesday, November 6, 2018
Despite being formed more than a decade ago, Krasnoyarsk-based duo Истина (aka Istina, which is Russian for 'truth') has not such a huge curriculum vitae. But hey, that's all about the philosophical question: do you prefer quantity or quality? Since I do absolutely and deeply prefer the latter, quality, I am glad that this band focuses on a long-time writing and recording process rather than releasing an overload of inferior stuff. Anyway, it was in Autumn 2014 that M. (guitars, bass, drum (programming), mix and mastering, music) and N. (vocals, keyboards, guitars, music and lyrics) came up with their first album, Πознанче Мьмоў, and I was truly impressed by the result – see here: http://www.concreteweb.be/reviews/%D0%B8%D1%81%D1%82%D0%B8%D0%BD%D0%B0-istina.
Now, after four years, the Siberian duo returns with their sophomore full length studio album, Откровение Неизвестности, which means revelation of (the) unknown. It is a twelve-tracker, coming in a nice three-folded digipack edition, including a sixteen-page booklet with the lyrics (in their mother tongue) and including intriguing green-black artwork (by In Tenebriz musician Vladimir Prokofiev of Paint-It-Black-Design; think: Lauxnos, A Thousand Sufferings, Utburd, Cain Will Rise, Taiga and many more). And yes, of course there is a digital format too.
Истина do not wait one single moment to show their sharpened teeth. No, they go full-force as from opener Ha Πике Сумасществия. This piece has something enormously haunting, oppressive and freezing, with a dissonant and hypnotic structure and an ulterior darkened atmosphere. It starts quite slow; explodes little after, and returns to that slow-paced melody again. Damn, this is such a grim composition with a lot of elements to discover. Spooky semi-acoustics, droning strings, sulphuric screams and that variety in speed, Ha Πике Сумасществия is like an omen for a great yet nasty sonic experience for sure! Fabulous opener! And you know, the whole album goes on in that vein. Откровение Неизвестности sounds funereal, mesmerizing, uncompromising and intense, with quite some variation (in tempo, as said before, yet the structures within each track do very too the whole of the time). The better part is fast and energetic, but the album comes with calmer excerpts too, as well as slower, doom-laden fragments. Everything sounds melodious, because of the melodic guitar leads especially, yet also supported by the droning bass lines and semi-acoustic or acoustic intermezzi. It goes strongly on in the vein of this duo's debut album from 2014, with comparable hints of related genres, i.e. DSBM and Funeral Doom. Yet there is more, like that Nordic-oriented touch of grimness, the war-lust of Epic / Pagan Black Metal, and the floating elegance of Atmospheric Black Metal. The basic structures are repetitive, yet more progressed than on the debut, and the discordant approach did increase too in comparison to Πознанче Мьмоў.
Another thing that is comparable, yet slightly improved, is the production. I was not exactly that 'happy' with the production on the debut, even though I did not dislike it either. Well, this time the sound is at least as raw, unpolished and sludgy. Though, the mixed comes with an improved equilibrium, and this time the bass lines, the rhythm guitars and all percussions are better balanced into the final result. Only the keyboards are sometimes drowning into the overwhelming massiveness of the production. But the fact that the roughness and sharp-edged recording noises are still maintained, is such fine detail, for it strengthens the mysterious existence.
With this album, Istina continue where they left off four years ago. For the better part, this album is like a logical successor of the debut – why changing a winning team anyway. The compositions are written with exactly a comparable craftsmanship, the performance is at least as impressive as before, but two things are even slightly better: the sound quality, as mentioned in the former paragraph, and the average quality of the songs: more mature, more cohesive, more impressive. So, in conclusion I end with: if you liked the debut, you will adore this sophomore album. And if this band is new to you, give it a try!