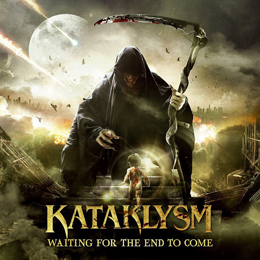 Album Title:
Waiting For The End To Come
Canada is one of my preferred countries when it comes to icy and Nordic Black Metal (with the Québec-era as one of the most outstanding ones, by the way). But I am also extremely 'fan' of the Canadian Death Metal scene, for this one is one of the most honest and pure ones in Mater Terra's history. It would be stupid to list up the bands I do like, but one of my favourites for sure has always been Montreal-based Kataklysm. Every single thing this band did was of an exceptionally satisfying kind, with 2010's Heaven's Venom as highlight (the review written by undersigned can be found in the Archives-tab of this fabulous site).
After more than two decades of raison d'être, Kataklysm release their twelfth album, Waiting For The End To Come, which was produced once more, evidently, by guitar player (and founding member) Jean-Francois Dagenais. The final mix (+ mastering), by the way, was taken care of by no one else but Chris 'Zeuss' Harris, who is known for his studio work for hundreds of Extreme Music bands, such as Ion Dissonance, Sworn Enemy, Chimaira, Six Feet Under, Suffocation, Kingdom Of Sorrow, Agnostic Front and so on, and so on, and so on. Waiting For the End To Come lasts for forty five minutes and is another definition of Canada's grotesquery in general, and Kataklysm's professionalism more specifically. Additional interesting fact: the (temporary) recruitment of former Neuraxis-drummer Oli Beaudoin.
Every new recording was a (modest) step forward in comparison to the former one, and I wonder when and where it will end, this constantly evolving professionalism. But after a couple of listens I am sure: the progression has not come to an end yet with Waiting For The End To Come. The tracks are just massive, colossal, monolithic. One of the many nice aspects is the variation in tempo: mainly fast with exceptionally powerful blasting eruptions (listen to the double bass assaults or the fiery guitar riffs that come with pyroclastic grandeur), yet more than once slowing down to proportions only handled that carefully by the better Doom acts of our globe. Just like the trend enforced as from Heaven's Venom on, the epic approach stands out, giving that grotesque dimension of glory and power to the individual songs. It's the ultimate exploration of new sources of powerful energy behind unsafe borders that work too limiting. And the coherence of each single composition is remarkably well-thought (once again). It's like Waiting … is a conceptual soundtrack for, indeed, an end to come.
(personal note: I might prefer Heaven's Venom for this one being slightly more obscure…)