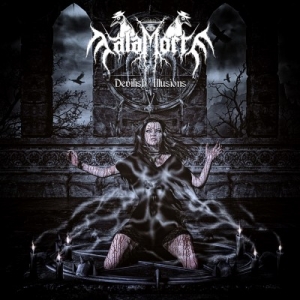 Malamorte are a (new) project by Alessandro 'Lord Vampyr' Nunziati, known (currently or previously) from bands and projects such as Theatres Des Vampires, Cain, Shadowsreign, Sepolcrum, Lord Vampyr and some more. It started when Alessandro wrote and recorded some material in 2009, but that stuff wasn't released until 2014 officially (as The Fall Of Babylon, via the semi-cult label Cold Raw Records; on December 27th 2014 we uploaded the review that I did for this EP). Malamorte now return with the first full length, called Devilish Illusions, on which Lord Vampyr aka L.V. was assisted by his Shadowsreign-colleague Sk once again. Everything was engineered, mixed and mastered by Sk at the Dogmate's Studio during Summer 2015 (note: the Lord took care of the initial production). The result lasts for thirty-eight minutes, and it comes with artwork that surely corresponds to the Music.
I can be quite short, directive about this one. After a minimally droning / ambient introduction, Malamorte reveal their true identity, focusing on a somewhat groovy, quite modern and experimental form of (old styled) Thrash / Heavy Metal oriented Black Metal. The fine equilibrium in between the origins of the scene (Malamorte's basic structures indeed go back to the glory days of the Second Wave tradition) and a Post-injected execution (the dissonance of the newer current more than often prevails) is a great element that characterises this album; more than before this balance is prominently present, I think. Still there is a certain catchiness in both song writing and performance, but seen the strength of the final result, this element does not bother (me).
Yeah, surely there are lots of more convincing acts around nowadays. And I think this might be a pity, for there is an overload on great material going on lately (f*cking bad stuff too, unfortunately), and therefor this specific effort might get lost in oblivion. But then again, it would be a pity if this material does not get some promotion, or at least some attention, for it surely has a couple of splendid ideas as well (besides the predictable and 'evident' details) – Possession or Dark Clouds On Golgotha, for example, are monsters for sure! So, no matter if there is so much material available right now; one cannot ignore the fine experience that is called Devilish Illusions. Personally I did appreciate this album more time after time when I did listen to it, for there is quite some bravery to experience. Just deny the 'sweet' details that do dwell around, for actually this recording is an example of the bridge in between the elite of the scene, and an upcoming, possibly new-born 'true' crowd as well? Purist might disagree (then again, why should you) and youngsters that seek for something 'extreme' will leave because of the adult ideas. So, don't just ignore this effort, for there are really great ideas going on. Especially within the faster pieces (cf. a composition like Devoted To Self-Destruction) one cannot ignore the glory of old styled f*ckin' mad Speed / Thrash / Black / Heavy Metal grandeur, then again…
No, let's keep it simple:
@ Malamorte: go on, continue, but delve deeper in order to find your own, specific, characteristic identity – at least you've my (mental, for what it's worth) support to do so!
@ audience: I know there is quite a lot going on lately (with indeed an overload on releases, amongst witch, sorry, which many splendid ones), but I feel a sense of glory yet to come. Keep this band's name in mind, for I foresee a bright future…