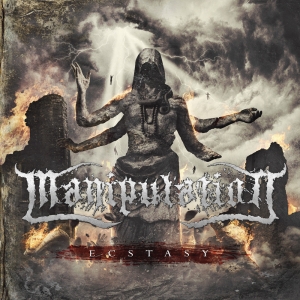 Release Date:
Friday, September 11, 2015
One of the many releases that did came out on Russia's Satanath Records in 2015, and since I promised label owner (and friend) Aleksey to give my attention to all of them, is Ecstasy, the third full length of Polish act Manipulation. This band was formed at the very beginning of this millennium, but after the recording (+ release) of their debut, they did split up. Eventually, the band reformed, and some more releases did follow, but their 'success' remained somewhat local. Now, with their third album getting released via Satanath, Manipulation might finally 'break through', and if this review can be of help…
Ecstasy lasts for forty four minutes, and it was recorded at the Monroe Sound Studio by Rado.Slav (g, music & lyrics), Vulture (g), Kriss (d), Bruzyc (v), and Bysiek (b). What these guys bring is an enormously powerful, overwhelming and hammering mixture of different Death Metal genres, and you know: in this case it works. There is, evidently, the no-nonsense Old School trend, the Blast and the Tech-Death sub-genre, the modern approach, an atmospheric one, the so-called Morbid Death form, some Grindeath, and even more. Only the Black-Death and the Doom-Death angles seem to miss. This might seem very confusing, but actually it is not. Since quite all those related sub-genres come with a comparable groovy / grooving execution (mind the funky bass sound!), the coherence strengthens the variation, instead of ridiculing these ideas.
A surplus is the sound, which is very decent: firm, heavy and well-balanced in mixture, without any fake over-produced intention.
A minor detail, however, is the lack of being able to keep the listener's attention present all the time. Some parts are really outstanding, but a couple of times I'm losing my interest. Not because it sucks, but there is an incomprehensible discrepancy in between the level of the pieces. But don't be afraid, for the general result is truly mighty! There are no real cons, and quite some highlights (Insomnia, the more melodious title track, Burn MotherfuckerS! etc.), and I am sure that those who like energy and pepper-in-the-ass (or is it 'kick-ass') injected Modern / Tech / Groove / Blast Death Metal, will find their sonic satisfaction with Ecstasy.