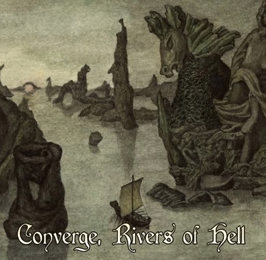 Release Date:
Thursday, October 31, 2013
Everything I, Voidhanger Records (an independent division of Aeternitas Tenebrarum Music Foundation aka ATMF Records) do is of a superior quality. This wonderful label releases nothing but excellent stuff, and this time it is not different. With Converge, Rivers Of Hell, this Italian label compiles material from three solo-projects by an Australian guy who calls himself Dis Pater (I have no idea who the person behind those projects is, but actually it does not matter, does it). Both The Crevices Below and Tempestuous Fall are put to rest in mean time, but with his main project, Midnight Odyssey, Dis Pater is still active. All of these projects did record and release a full length before, which are extremely highly recommendable (with Midnight Odyssey, by the way, there was another great split-album before too, with Aeon Winds, a project Dis Pater worked with as guest / session musician – it).
This album is a concept dedicated to the classical rivers of the ancient Greek Underworld, Hades, taken from the ancient Greek mythology (and based on historical Greek and Latin literature). Excerpt from the bio: 'In Dis Pater's visions […] Acheron, Cocytus, Pyriphlegethon, Lethe and Styx become places of the soul, where the dead face their despair and are left to wander eternally, drowning in their own memories and miseries, waiting for a merciful hand to save them or cancel their existence forever'. Sounds attractive, not (though not for those souls referred…)…
Since all tracks last in between nine and thirteen minutes, the total running time of this six-track album (each project comes with two tracks) clocks about sixty four minutes. And before giving a personal description of each single track, I need to mention this: all epics are extremely comparable, for Dis Pater wrote this material with a specific goal (the tribute to Hades' rivers), and it leaves me confused for he divided it into his three projects' existence.
Anyway, Converge, Rivers Of Hell opens with the The Crevices Below-song Charon – Upon The Winds Of Lamentation. In Greek mythology, Charon was the 'ferryman' that rowed the Dead across the rivers to the Underworld. The ten-minute composition brings an atmospheric kind of Ambient Black Metal à la Finnugor, Tartaros, Lord Agheros, Vinterriket and the likes. There is a certain specific melancholy that defines the atmosphere, partly caused by the addition of melodic vocals and floating keyboards, but at the other hand, the drum machine rhythms inject the song with a touch of up-whipping energy. Next comes the longest track (12:44), Pyriphlegethon – In Death's Gaping Jaws, done by Tempestuous Fall. Like the album The Stars Would Not Awake You, this piece is extremely slow and oppressive, combining mystic Funeral Doom grimness à la Ahab or Comatose Vigil with rather funereally Doom-Death laden stuff in the vein of Evoken and Thergothon. Besides, it comes with a specific flair that could betray a slowed-down interpretation of L'Ordre Du Temple, Elffor, Summoning and same-minded majesty. The third title is Lethe – Through The Lair Of Hypnos, performed by Midnight Odyssey. The first three minutes are acoustic and closely related to the most obscure regions of Neo-Folk, but slowly this track turns into a melodic Black Metal piece. It takes another three minutes before Lethe … shows its true face, full of scars and surrounded within a halo of mysticism. The fourth track on this album is the second The Crevices Below song, Acheron – Deflecting Heaven's Will. Like Charon …, Acheron … combines post-cosmic and ambient spheres, and the Cold Wave attitude that distincts this project from the others is present more than before. At the same time, it might be the most esoteric song ever done by The Crevices Below; enjoy the transcendental and misty intermezzo in the middle of the composition, before turning into another symphonic Black-assault. It mainly comes with an approach that reminds me enormously to the Dark Wave / Gothic / Cold Wave scene from the late eighties / early nineties. It's at the end of the song only that the 'Metal'-elements join the dark feast. Tempestuous Fall's second piece, and the fifth track on the album, called Cocytus – Shades Of Phantom Souls, opens in a modestly-elaborated operatic way, but as soon as the Funeral Doom elements join the party, the asphyxiating sulphuric stench poisons man's breath. The compilation ends with Midnight Odyssey's Styx – Converge, Rivers Of Hell, which might be the most 'catchy' creation on this album. It's epic (sometimes almost bathorian!; listen to the harmonious choirs or the epic-acoustic excerpts!), atmospheric, melodious and cold as Antarctic ice, but it gives me a warm feeling.
So, in a nutshell: Converge, Rivers Of Hell is a collection of mystic and epic Cold Wave, Funeral Doom, Black Metal, Ambient and Atmospherics hymns with a cohesive identity, meant as a journey through a glorious Past.