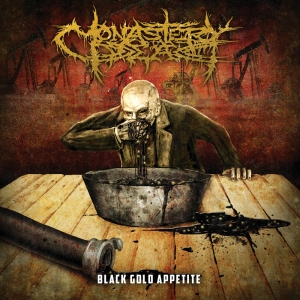 Release Date:
Wednesday, August 26, 2015
Monastery Dead are a Saint-Petersburg-based combo, formed a decade ago. After a first demo, the band recorded the album Victims Of Senseless Massacre (Musica Production), followed in 2012 by Cold And Gloom (Wings Of Destruction). Now the band returns, once again subdue to some line-up changes, with their third full length studio album, Black Gold Appetite, which lasts for thirty five minutes.
Seen the 'average' artwork, the uninspired title and the plain band's moniker, I was afraid, prepared to experience the lowest form of would-be Metal. But damn, like I was wrong… Seriously, this quintet (at least they were a four-piece at the moment of these recordings) do not bring something renewing at all, but the quality they stand for is truly beyond expectations. This stuff has something alike to, for example, Abscess / Autopsy, Immolation, God Enthroned, Bolt Thrower, Necrophagia, Incantation, Asphyx and Unleashed / Grave / Dismember, yet with quite some self-identifying elements. That's a good thing, showing an own face, but one needs to consider the sad, disappointing lack of variation as well. With exception of a couple of compositions, the most is like repeatedly the same, over and over again, with a comparable structure (no matter the technical execution of it), an identic tempo (including the very same changes in structure and speed), and so on.
Once in a while – and believe me if I say that I am not that 'anti' at all, despite the lack of glory – there's one or another excerpt that is slightly better than the 'average' (Generation: Rats, for example, is such a piece), but in general I think Black Gold Appetite isn't but a cool effort that lacks of most grandiose elements that characterise the bands I mentioned in the former paragraph. …or better: those elements might be there (and not necessarily in a worse condition), but since lacking inspiration and invention…