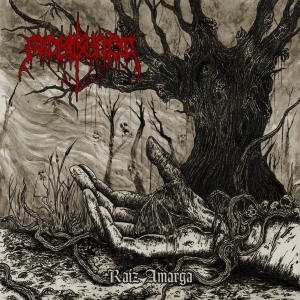 Moribundo are a young band from Spain, formed in 2014 by multi-instrumentalist Juanpa 'Evilead' Pérez (also known from bands like Elderdawn, Bizarre and Nangilima) and lyricist Justo 'Mortvs Vyrr' Arganda (who does not 'sing' himself). They wrote several songs throughout the years (Evilead took care of the musical side, Mortvs Vyrr the textual one), and then they recruited Vanagloria's singer Luis Miguel Morino as vocalist. This collaboration eventually resulted in Raiz Amarga (which means 'bitter root', by the way). The album was recorded at the Madrid-based Bizarre Sounds Studio (instrumentation) and the Estudio Traste Cero (vocal part), and the mastering has been taken care of by Finnish top-master Hiili 'Kai' Hiilesmaa (think: Whispering Woods, Waltari, Amorphis, Svartby, Moonspell, Sentenced and many more). There are 500 copies (sorry, 499 or less), available via, once again, a co-operative in between two Russian labels ran by a cool and sympathetic guy called A. K., being Satanath Records from St. Petersburg (smiley…), and Volgograd-based More Hate Productions. The CD comes with an eight-page booklet, which includes the lyrics, written and sung in the band's mother tongue. The four lengthy songs clock thirty-six minutes, by the way (seven up to ten minutes).
Moribundo (which means 'dying') bring a richly orchestrated form of timeless Doom Death Metal, influenced by the elementary aspects of the old school, but clearly executed in an own, creative way. It does not mean that this band is progressive. But their approach shows an own face, rather than being a copycat. But they do add a lot of original, creative and / or renewing elements, coupled on a huge does of variation.
The song writing's basics are based around typifying melodic structures (not necessarily that twin-trem approach, but rather constructed around the corpse of each composition), dwelling in between desperation and disappointment, enforced by majestic rhythms. It's like a canvas of heaviness and anger, injected with subtle fragments that show Evilead's professionalism, creativity and craftsmanship. In a complementary way, acoustic guitars, piano and keyboards are part of the totality, sometimes painting a pale atmosphere at the background, then again coming forward and absorbing all attention.
The tempo, evidently, varies in between all kinds of slowness: from slow and pounding to oh so doomy. But quite interesting are the very few faster eruptions, the sudden blasts that appear once in a while (and that disappear as fast as they arrive).
It is remarkable how cool the production quality sounds like. Raiz Amarga overwhelms with the many instrumental and vocal layers, but there's room for each single aspect to present itself through a perfectly balanced mix. There's no irritating background noise, all instruments are clearly hearable, and not one single time you're losing a detail (at least when paying full attention). No matter whether you're dealing with the full, orchestral passages, an integer intermezzo of grief, or a morbid moment of fierce grimness: the whole of the time, that sonic workmanship remains stable and well-balanced seen from sonic point of view.
Oh yes, I did not mention the vocal capacities of Luis. Well, his throat is very, very deep, like abysmal growls coming from a sulphuric depth, but done without exaggeration. It truly fits to this specific kind of Doom Death, of course. Here too, there is not exactly a renewing aspect, but it's a supplement, lifting the result to a higher level.
Raiz Amarga might not exactly be the most exciting album within the genre, but the result is more than average for sure. If you're into material à la Swallow The Sun, Daylight Dies, Insomnium, Saturnus or Novembers Doom, then you will not be disappointed.