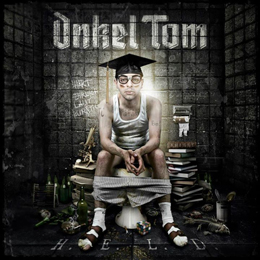 Release Date:
Monday, September 22, 2014
Onkel Tom is a German group founded by "Onkel Tom Angelripper" playing metal versions of schlagers, drinking songs and Christmas carols. Maybe you recognize Tom Angelripper from Sodom. Yes this is his solo project alive and kicking.
This is his sixth album called H.E.L.D. nice cover a student sitting or is it shitting on the toilet. First at all, all the songs on this album are in German. This album contains some fun songs like "Ein Bisschen Alkohol" a mix of punk and schlager. Other song "Zu Wahr Um Schon Zu Sein" is an awesome song with a nice guitar riff and a medolic chorus. But you must wait a little bit to hear some real good work "Der Duft von Lavendel" is a straight metal track with a heavy metal riff and a rough voice with some Rammstein influence. "Der Onkel Kommt Zum Hausbesuch" is total verrückt. This is realy German madness get liters of beer, a sausage and this record. An evening to never forget ! Just buy this record fun ensure!