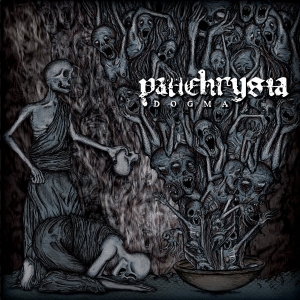 It is a very sympathetic thing to do, dearest Aleksey, to celebrate you 200thSatanath Records release by means of Panchrysia. Good idea, respect, haha!
Seriously, Panchrysia are an act from Belgium, and I dare to pretend that this act is one of the best ones from my home country. Their debut In Obscure Depths could be my favourite (Metal) recording from 2002, I think, yet also all other albums belong to my respectful top lists (if these lists would actually exist). The band had quite a stable line-up since the earliest years, which results in a very professional and organic collaboration in between the members. This album does not define the opposite!
The whole session was recorded and mixed on Flemish soil (recording at Blackroom Studio, mix once again at Turtle Power Studio, and mastering in the Penthouse Studio). The performance line-up is Zahrim (vocals and lyrics, guitars), Web (guitars), Dol (drums), and newly recruited members Jef (guitars) and Jessie on bass (did Joris leave?). The album gets released via Russia's finest Satanath Records in an edition of 500 copies, coming with an eight-page booklet that includes the English lyrics.
Dogma lasts for almost forty minutes, and it is the first album in a long time. The last one, Massa Damnata, was from 2011. Well, actually, this band has never been that productive, but they prefer quality above quantity. It shows once again, and that's clear as from the first sequence of this album. Throughout the years, Panchrysia sort of created their own sound, and this is the case on Dogma too, evidently. A permanent evolution / progression as result… The album opens with Each Against All (and not 'eeach against all'), which starts slow, melodious and atmospheric, yet deeply heavy and powerful too. Step by step those riffs and rhythms grow, building up patiently… And then the sonic attacks blast everything away! That is a constant throughout the whole album (once more), that diversification and interaction in between melodic-hypnotic passages and devastating excerpts. The guitar work is excellent – sorry, everything is excellent – but I mean that the melody-structures are beyond average. The riffage exhales a craftsmanship oh so fine, oh so intriguing, like the spine of a colossal corpse to be carried. And then you have that fabulous rhythm section support, with sublime drum patterns (truly!), mighty bass lines and strong, pushing rhythm guitars. In its interactive totality, as said before, you understand the better part of the band members' twenty years of partnership and experience. On top, the creative ideas are a surplus, but hey, that too is courtesy of the band, as you might know.
Remarkable is that the album has more decelerating, slowed-down passages than before, a larger dose of melodious intermezzi, a wider vocal range (not unimportant at all!), and less 'Post' elements than before. It is a logical result of the constant progression, of course, and it does not bother (even though I still do prefer the debut – but that isn't but a subjective and personal opinion). At the same time, the band maintains to continue their own-faced and recognizable approach. Development can be a good thing, as long as it does not betray its roots, and here we have a good example of how it should be.