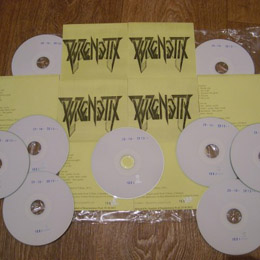 Release Date:
Wednesday, October 29, 2014
Phrenetix are a very young four-piece from Vilnius, the capital of Lithuania, formed in 2011 and consisting of (female) guitarist / vocalist Lina, bassist Daumantas, guitar player Tomas, and drummer Jonas. Shortly after they recorded their untitled demo (or entitled as Demo 2013, if you want to), they were able to sign to Symbol Of Domination Productions, which can be considered a sub-division of Satanath Records (you might find little more information on the review I did for Soliloquium's The Concept Of Escape-EP; see update December 25th 2014). It's released in a limitation of 100 copies only, by the way.
Demo 2013 consists of five tracks, which last for four to five minutes each. What these guys, and girl, bring, is an energetic, galloping and little catchy form of Traditional Thrash Metal, yet with quite some up-tempo heaviness. The songs are very classical in approach, yet filled with technically crafted elements. Especially the Bay Area-trend comes to mind. This goes as well for the variation in tempo, the breaks and hooks, and some additions of the Crossover-trend. Metallica (there's quite some tribute to within the global riffing, and then I am referring to the era before the black album, evidently), Testament, Overkill, Nuclear Assault, D.R.I., Megadeth and Exodus are clear influences, though Phrenetix do not limit themselves to these bands only, by giving an own twist to this stuff. But these comparisons might give you an idea of these Lithuanian musicians. Every track, by the way, has something unique, like the vocals in the mother tongue on Pousera, the wonderful intermezzos from Art Of Jail, elements from the European (and like in Do Or Die, more specific: the Teutonic) scene, or the Maiden / Priest-alike leads in several songs. It's rather groovy and catchy, but Demo 2013 is a lovely interpretation of the roots of Thrash.