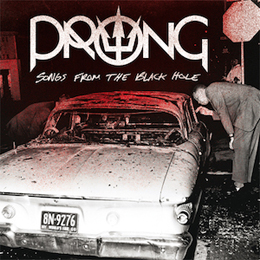 Album Title:
Songs From The Black Hole
Almost a year after their latest studio release Prong surprises us with a new longplayer. This time it's not about new songs, it's more a kind of journey into the personal record collection of the Tommy Victor and band mates.
Prong recorded an album that contains ten songs from bands that influenced New-York-based Tomme Victor and by that also the sound of Prong. I think some great songs can not become greater!!! I am not a fan of covers, I prefere a Prong LP with strong numbers! Usually this kind of move often signals the beginning of the end of a lot of bands these days. Let's just hope that isn't the case.
The positive note is that they took several incredible numbers, songs that always stay float! (Sisters Of Mercey : "Vision Thing", Adolescent : "Kids Of The Black Hole", Killing Joke : "Seeing Red", Fugazi : "Give Me The Cure", Neil Young : "Cortez The Killer" = the most memorable moments on the album).
Wheter or not Songs From The Black Hole is a warning sign, I can imagine the hardcore fans will like it! It wasn't necessary for me but I think the Prong fans will be able to get into the choices the've made on this album.