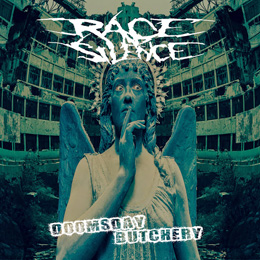 Release Date:
Saturday, December 13, 2014
The Russian act Rage In Silence finally releases its debut album via Symbol Of Domination Productions, a sub-division of mighty Satanath Records. It's called Doomsday Butchery and lasts for about twenty five minutes, and believe me if I say that it will certainly please some of the sickest minds amongst you.
Actually, what Rage In Silence bring with Doomsday Butchery is a very technically executed, yet mostly bloody and brutal form of Death Metal-injected Grindcore with quite some hints to the North American scene. But it's not just a shameless clone of any American or Canadian band, because Rage In Silence combine stuff à la this great and inspirational (yet often over-estimated) scene, with elements from the European experimentalists too (cf. the scenes from Finland or the U.K.).
Sometimes it's totally over-the-top, but this kind of exaggeration needs to be considered the cynical way, I think. But in general it does hit the bull's eye, despite the lack of originality. The dual vocals (utterly deep growls and high-pitched screams; what else?), the frenzy blast beats versus the down-tuned decelerations, the artillery drum patterns and the grooving (and sometimes even funky) bass lines, yet also the proggy or hi-tech injections; it's a combination that does satisfy many eardrums, I think.
The sound, to end with, is pretty all right too: rough and filthy, but lacking of clinical precision, and that's just fine.
I have just one single remark, and that is: I do miss an own face. There is not one single piece that bores me at all, but at the other hand, there is none either that makes me think: damn, this band is cool! But the hardcore Grind-adept must give this nastiness a try for sure!