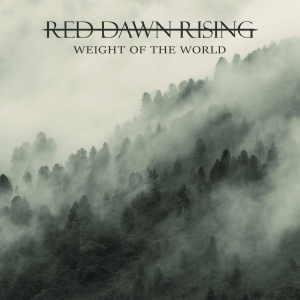 Normally I do not delve deep into Metalcore-oriented stuff. Concreteweb (undersigned included, as being the sole reviewer) however tries to be open-minded, as long as the content is worth being treated. Well, earlier this year a band from Kortrijk, Flanders, Belgium, Europe, Earth, Universe, sort of asked me about my opinion of their new album Weight Of The World. And you know, since I was (and still am) surprised the positive way by that release, I have no reason not to write down my thoughts on that album.
Actually, the album is a concept that deals with the sickness called 'humanity'. Hey, this works well for me! More specifically, they focus on the laziness of contemporary mentality, the lack of creativity, and the over-consumption of stimuli that make mankind ignore, or forget about personal ambitions, belief and progression. At least, that's what I feel about it – and if not, I'll intoxicate you with any other critical opinion. No, seriously, we have to permanently look for new opportunities and challenges; 'listen, learn and never stop improving yourselves' (fragment taken from the bio).
On Weight Of The World, Red Dawn Rising did consist of vocalist Arne Vandoorne, bass player Emanuel Rosselle, drummer Peter Craeynest and guitarists Roderik Iserbyt and Niels de Craemer. Some might recognize some of these guys from acts like Malfested or Headshot (Peter and Niels). The songs are taken from elderly recorded material and some newly written pieces. It's a digital release (to be honest, I have no idea whether there will be a physical one in the future), consisting of ten titles (the untitled introduction included), clocking about thirty-eight minutes.
What this quintet offers is quite 'traditional' when talking about the core of the scene. Indeed it refers to a certain lack or originality, yet still the band has some innovative moments and lacks of predictability. And hey, performing on an elevated level (going for both song-writing and execution), doesn't the latter acts like a great excuse for not being original.
So, what Weight Of The World brings is a very energetic, somewhat catchy and strongly rhythmic and melodious form of timeless Metalcore. Quite some parts are especially guitar-driven, with hypnotic melodies, well-balanced twin / tremolo riffage and well-crafted leads. This gets intensively supported by a fine rhythm section, with confident, sometimes somehow funky-sounding bass-lines, very various drum-patterns and low-tuned, heavy-weighted rhythm guitars.
Besides a strong melodious basic structure, Red Dawn Rising make use of djenty hooks, several tempo-changes (including a few blasting assaults versus atmospheric decelerations), and constellations that search for a fine-tuned equilibrium in between menacing power and conceptual awareness. The variation in between inherent-spherical principles too is a surplus. But is the professional production that strengthens the positive balance for sure. Everything has its own value within the mix, paying as much attention to the four-strings, for example, as well as the cymbals, leads or rhythm guitars.
Vocal-wise, the better part exists of rough and throaty grunts, deep and powerful, deadly like a rabid grizzly. Arne's voice indeed is brutal yet, at the same time, cleanly expressive – and very understandable when spitting out the band's messages of disgust, hatred and disappointment. Further, there are some clean voices too, as well as several high-pitched screams, some spoken words and a couple of semi-anthemic choirs; all logically-used ingredients, but appropriately performed within the whole concept.
As mentioned, the lack of originality and distinction might bother. Yet seen the fact that these guys are not like some cheap copycat, and since they do perform quite attractive stuff, that semi-predictable similarity might be ignored. Personally, I hope for little more diversification 'within' the tracks. Sometimes I get the idea that I did listen to a specific riff or sequence before. But above all, and overall, Red Dawn Rising do not disappoint. This debut (they are currently writing and recording a sophomore album, apparently) will please fans of, well, the band mentions In Flames, As I Lay Dying and Killswitch Engage as biggest influence; I'd like to add acts like earlier All That Remains, Heaven Shall Burn, Unearth or Darkest Hour too. Do give them the benefit of doubt and let's imagine that the upcoming album shows a progression when it comes to originality and diversification in between the tracks. Until then, take a stand, together we stand strong, remember, we're never alone, together we stand strong… it is perseverance and passion that must reveal progression…
https://reddawnrising.bandcamp.com/releases