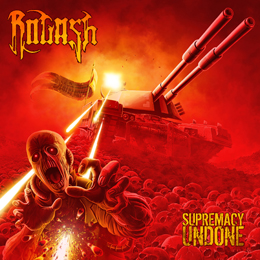 Release Date:
Wednesday, January 29, 2014
Honestly, I did not know German band Rogash yet. Apparently, they did record a demo in 2010 (entitled Rogan Era) and that's it, so I do not need to feel guilty. But apparently they are quite promising, for Dan Swanö was so kind to do the final mix and mastering for Rogash's debut full length Supremacy Undone. This gets translated, of course, by means of the monumental sound of this debut full length record. And another remarkable fact: in their home country, the band did tens and tens of live gigs in their home country during the past years. It offered them a huge live reputation and quite an impressive fan-base.
Unfortunately I am not that convinced by the stuff Rogash bring. The material on Supremacy Undone stands for rather timeless Death Metal (read: modern and traditional in one), yet of a mostly uninspiring kind. I do not necessarily need originality to reach an aural orgasm (in a few cases, the clone gets me higher than the original), but to do so, one needs to come with something that stands out. Rogash do not; at least not completely. Supremacy Undone brings the kind of Death Metal that dwells in between the so-called 'Brutal Death Metal'-scene and a more melodious one, yet didn't I hear it a couple of hundred times before?... …and sometimes (read: often) more enthralling than this? Besides, the injection of Grind-elements is rather cliché than renewing, isn't it?!
Does it mean that this is a bad album? No, it is not. It certainly is not. You see, the biography refers to the likes of Suffocation, Spawn Of Possession and Dismember. I can agree, at least partly, but the bands Rogash are compared with are much, much, much more interesting, convincing, influential.
A few tracks, however, are close to 'outstanding', such as Constant Calamity. But this album is a fourteen-piece record, and I do need more than just a couple of excerpts that stand out, to get satisfied. Supremacy Undone might be a nice foreplay, but it won't make me come. What about you?