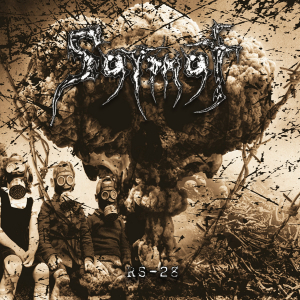 I won't go way too deep into the matter, but RS-28 Sarmat has to do with a quite young intercontinental nuclear missile manufactured in the Russian Federation, able to devastate vast areas all around our oh so beautiful and beloved planet. Boom!
As explosive as the moniker, so is this Polish band's debut. Named after the ultimate tool to destroy 'the enemy' (whoever they might be) (I do have quite a list of possible targets, but in this case I have no influence), Polish army Sarmat do surprise / impress with their debut. Their first album was a result of a collaborative work of the main members (Daniel Szymanowicz – Krzysztof Kopczeński – Łukasz Kobusiński) and a session studio musician (see further), with mixing / mastering assistance by no one but the famous knob-wizard Arkadiusz 'Malta' Malczewski (Lost Soul, Misteria, Azarath, Vesania, Behemoth, Decapitated a.m.o.). Besides the digital option, there is also the regular compact disc edition, which comes with a twelve-page booklet that includes the (mainly) English lyrics. It was released in an edition of five-hundred (500) jewel-case copies. It withholds explicit cover artwork (by Lord K.) and layout by Piotr Szafraniec (who did some nice things as well for releases by e.g. Thy Disease, Vader, Trauma or Automb).
This soundtrack, promoting 'the weapon of ultimate destruction', also known as 'Satan 2', consists of eight individual yet (evidently) cohesive chapters, clocking half of our 666 presumption / persuasion, i.e. 33,33 minutes. It's a harsh experience, a monumental execution of Blackened Death Metal with quite some hints of Traditional (Orthodox, if you want to) Black Metal, Technical Death Metal and related stuff. Stuff from Poland, indeed it is! There are suite some remarkable aspects. One of them is that ingenious equilibrium in between a technical and a melodious approach. The whole adventure surely has that mesmerizing melodic execution, yet the details are technically fine-tuned. This goes for the guitar-work by Krzysztof and Daniel especially (the latter took care as well of the bass-parts), yet many drum patterns and the rumbling bass-lines too balance in between high-tech play and melodic elegance.
Another cool thing is the huge variation in speed, besides the higher-mentioned structural content. Mid-tempo passages get smoothly yet intolerantly penetrated by blasting eruptions, before decelerating once more into slower moments, and again and again. These changes in tempo pass by very organically, even-though some sudden breaks and complex hooks create wonder and surprise. Within the fastest passages, the drum-work of session musician Krzysztof Klingbein does play a head-role. In the meantime, Sarmat did recruit a permanent drummer (and bassist), but the band wouldn't need to be ashamed, I think, to have this guy as permanent group-member. Anyway, some of his drum-salvos are like pyroclastic explosions, with all-overpowering double bass-drums and malignant cymbal-rape. But within the slower excerpts, that drum-work remains an impressive theme for sure.
Vocal-wise (Łukasz), the whole picture is like a puzzle with the many pieces fitting perfectly together. His range is little varied, especially based on very loud, deep and guttural grunts, yet with some blackish screams or gurgling growls as well. This herald of annihilation and mass-murder knows how to color (or is it: to uncolor?) each single chapter, adding the necessary touch of specific content at the right moment. Take You Don't Live In My War, for example (which has a lyrical fragment from a poem by W.E. Henley, by the way), with that well-thought equilibrium of grunts and screams.
Once in a while, the additional synths (also done by Daniel), like in higher-mentioned You Don't Live In My War or in the acoustic introduction for Seeds Of Uncertainty, give the whole a touch of gloomy ambience too. And I even dare to pretend that a hint of Post-Black does appear too within the whole story. The production, evidently, ministers to this, well, why not, sort of post-industrialized sound. It's the gargantuan sound-engineering and the well-balanced mix that contribute to this monolithic sonic result.
For fans of, well, Behemoth, Azarath, Hate, Vesania and the likes, but adepts of e.g. Belphegor and Arkhon Infaustus, or even Zyklon or Thorns, might appreciate this stuff for sure!
Sicut nox silentes! The nights won't be that silent anymore…
https://sarmat1.bandcamp.com/album/rs-28
https://www.youtube.com/watch?v=GM6O0lfXpXg