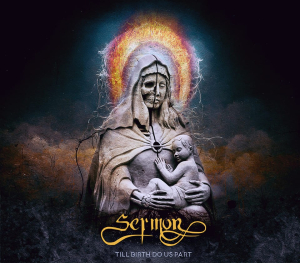 I have to be honest. I did not know the band Sermon from the Izmir-region in Turkey, even though they were formed fifteen years ago. Yet then again, apparently they have not been that active / productive either, so these guys will forgive me my ignorance, I'm sure. They were active from 1997 to 2004, but didn't release anything but a couple of demos. …and faded away into nothingness.
Enter 2021. Cem Barut (the sole original member) decided to reform Sermon. As a three-piece, the band recorded some new songs with the intention to have a full-album, finally, in 2023. As teaser, they had three (quite lengthy) songs (Posthumous, Requitement and Destined To Decline) in their 'embryonal' stadium to use as try-out. That's where and when Cem contacted me to give this stuff a listen.
And well, I wouldn't spend any time or energy if I could not appreciate this material at all. And I do feel the good vibrations behind these recordings for sure. I'll come back to this immediately, but first a word on the informative / administrative side of the story. The full-length will be released via France's Bitume Productions in collaboration with the famous label Earache Records, but that's a futuristic happening. First a few words on the promotional tracks that are available already.
(PS: the date of release mentioned above is the one when I did receive this promotional download; it might be, or it probably is, a wrong date, but it does not matter, does it?!)
For these recordings, Cem was assisted by guitar player Durmuş Kalin, and the vocals are courtesy of Trenchwar / Forgotten-vocalist Harun Altun. And what this trio brings is a 'traditional' form of highly-melodious Doom-Death Metal, which might not reinvent the scene (read: not renewing nor progressive) yet extremely professionally persuasive and impressive.
As said, this promo is strongly melody-laden, with twin-guitar riffs as basement. Different levels of six-string activity are woven into a harmonious sonic concept, with fine tremolo leads, captivating solo-work and atmospheric, sometimes dreamlike melodies. But this material goes further, for Sermon do focus on a larger scale of audible craftmanship. All these leading parts wouldn't show their grandeur without the strong – what do I say; I mean: without the massive – rhythm section. Rhythm and bass guitars, drums and percussions, and the accompanying violin / cello melodies; it sounds so organic yet confidently necessary and evident. It maintains the finesse of the Old School for sure, combining that highly mesmerizing atmosphere and that distant hint of semi-romantic, or pseudo-gothic, elegance; the latter without losing the essence into theatrical operatic drama. No, Sermon trespasses the limitations of catchiness, yet still these guys are able to represent a familiar yet somehow self-faced attitude. Nice…
I did not mention the deep, little growling grunts by Harun yet, whose contribution to the instrumentalization of Cem and Durmuş works like an ideal symbiosis. His throat is deep yet still warm, sometimes bending over towards bleak-blackened regions, then again expressive and narrative, additionally joined by more crooning, melodious vocals as well (cf. the fine vocal equilibrium in Posthumous).
In its totality, these three hymns offer a convincing view on timeless and universal Doom-Death Metal, with subtle hints of Goth-like Doom at the one hand, and dark-edged Funeral Doom at the other. Sermon are not 'original' as in 'renewing' or 'progressive', but they do not sound like a cheap clone of any other specific act either, despite hints to some typifying influential acts.
Recommended if you can appreciate earlier Paradise Lost (once again I want to refer to Posthumous), Swallow The Sun, early Katatonia, Evadne, Skepticism, Saturnus, Doom:vs, and hey, why not, early Opeth, Type O negative or the mighty Tunisian project Omination (cf. the not-that-accidental experimental injections once in a while [especially within the drum patterns]). I am patiently awaiting this band's full-length debut-album…
https://www.facebook.com/sermonTR
https://www.youtube.com/watch?v=uNDiaPZeAwE