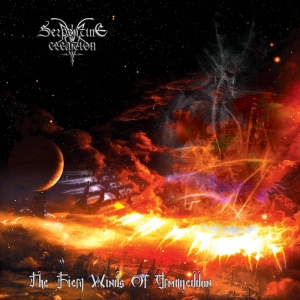 Album Title:
The Fiery Winds Of Armageddon
On this album, Bulgarian act Serpentine Creation are a quartet, consisting of Vlad (guitars + vocals), Gormoth (guitars), Mephistophel (drums; he took care of the artwork too), and Jafar (bass). They self-produced The Fiery Winds Of Armageddon with mix and recording at the Sub Zero Studio, with Bebo taking care of engineering and mastering. Result: forty one minutes of modern Death / Black Metal.
There are quite some bands within this specific era dwelling around, especially since Behemoth sort of (re)invented this particular scene three hands full of years ago. Especially the Polish scene took advantage of this 'popularity', but it goes further than that. …luckily…
And with Serpentine Creation we do have another comparable act, yet with a highly-standard song-writing and execution. And sound. When coming back to the latter, one might even think of some top-act recording in one or another expensive studio with one or another notorious producer. But no, that's not the case, but the result is comparable. …referring to the final sound, evidently, and not the song writing or execution.
Though, the latter is pretty satisfying as well. Undersigned might not be that much 'into' this specific sub-genre, but what Serpentine Creation bring with The Fiery Winds Of Armageddon is more than all those empty-headed Behemoth-clones we have to cope with lately. Positive elements are the variation in tempo, the inventive structures, the magic melodies, the cool vocals, and the fabulous sound, as mentioned before – the latter being harsh and somehow clean too, which I do not dislike in this album's case. But above all, it are the technical skills that are remarkably stronger that most of the scene. Writing great stuff is one thing, yet being able to perform it that way too, that's another story. Well, Serpentine Creation seem to succeed to do both: writing acceptable material at the one hand, and playing it the right way at the other.
There is not one track that can be labeled as outstanding, but as a matter of fact, each single piece is a monument an sich. Every composition has that something 'more' to distinct itself from the grey masses; yet again: this kind of Aural Pleasure had been milked out for quite some time, and unfortunately it does not get to its peak again by this effort either. But the opposite is not applicable either, at all!