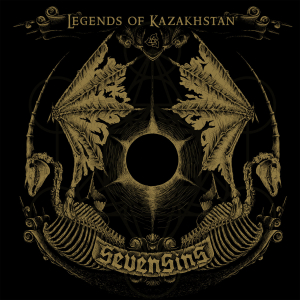 How many extreme bands do you know from Kazakhstan? I have to admit that my knowledge was limited to just a handful of acts from out there. But I do follow for some years is SevenSins, originating from the far East of this immense country, quite close to the Russian Federation and not that far away either from China or Mongolia. Anyway, this band started as a Death Metal oriented act at the end of this century's first decade, and throughout these years they released three full-length albums and one EP. This review will deal with their last full-length, released in a partnership of MurdHer Records and Satanath Records, just like 2016's Due Diaboli Et Apocalypse.
I have no information about when and where this newest album was recorded, but Legends Of Kazakhstan was released on compact disc, being 100 digipack copies and an edition of 400 copies as jewel-case CD. It comes with an eight-page booklet in black and white, which includes the lyrics in their native tongue (no idea what the actual content is like, but the titles are translated and do give a clue of the concept), as well as some sober artwork and pictures of the three members (yet also here: no idea who is behind the artwork, unfortunately). And those three members, that's Viktor 'Walter Taro' Medvedev (vocals), Yurey 'Golgorh' Afanasiev (drums) and Vladimir 'Amaron' Mikhailov (guitars) – no idea, once again, about session musicians (yes, I don't know much, haha).
Anyway, the eight pieces last for thirty-two minutes, including the bonus track, which actually is a cover of Суицид (= suizid). And in the vein of the latest recordings, this one too continues the permanent evolution of this band. It starts with a shorter prologue, actually an extremely energetic tribal song called Kazakh Steppe, and it gives you the feeling of a herd of wild horses, far away at the vast Kazakh meadows, getting closer, fast like a storm-wind, nearby, until they come that close that you feel the air blast. I'm glad that my fantasy has chosen horses to pass by that quickly, and not bears, wolves or tigers, ha…
Yet as from In A Grove Of Dancing Birches, SevenSins show their teeth (including pieces of meat and drops of blood). What they bring is a continuation, though much more intense, of Due Diaboli Et Apocalypse. It's fast stuff – with the necessary decelerations! – that concentrates on harshness and devastation at the one hand, and melody at the other. Symphonic Black / Death Metal to some, Blackened Death Metal to others; but I think this goes wider and farther.
The speed, for example, is truly unique. Okay, about 99 percent of the bands vary from slow over mid-tempo to fast, but SevenSins have the ability to have each single composition being filled with blasting eruptions and doomed chapters, and everything in between. Time after time, they manage to switch easily from a slower excerpt to an explosive one, then again slowing down before turning once more into pyroclastic energies. And they do it oh so organic; it's always so comfortable, I mean, it lacks of some forced would-be attitude. Really, really respectable!
Another great thing is the variation in structure plus the addition of spoken words or acoustic passages, all done at the right moment, to give an example. The balance in between tradition and a rather modern approach too, as well as the equilibrium melodic versus aggressive, are surpluses to lift up the result to a high level of song writing and execution. The dramatic, even theatrical performance is actually very firm, without fading away in ludicrous stupidity or unnatural artificiality. Even the cover Sleep My Justice is a mostly acceptable tribute to end with.
Even though the production is saintly (read: extremely 'perfected'), I think the impeccable clean sound is a good thing in this band's case. This specific approach of Black Metal can cope with a more decent sound quality, and it simply needs that full, magisterial production for sure. Bombast is an essential and indispensable basic attitude for this specific trend, and a rich, tight sound strengthens that orchestral approach for sure. Besides, the final mix too focuses on all participating elements, because the aggression of the rhythm section is at least as important as the finesse of the leads or the persuasive expression of the vocals. The bass lines or double drums are not inferior to the main guitar riffing or screams, and that improves the listening experience (at least if you don't care about catchy, poppy, commercial – and therefor fake – bullshit; this band does not sell nonsense!).
In a very wide sense, I can imagine that fans of Behemoth, Azarath, Dimmu Borgir, Septicflesh, Obsidian Gate, Veliar or Demonic Resurrection will adore this latest SevenSins full-length album for sure! The label also comes up with Dark Funeral and Watain as reference, and why not…
https://satanath.bandcamp.com/album/sat287-sevensins-legends-of-kazakhstan-2020
http://satanath.com/releases/item/sat287
https://www.facebook.com/MurdHerRecords
https://sevensins.bandcamp.com/album/legends-of-kazakhstan
https://www.youtube.com/watch?v=M1vw-ErECsQ