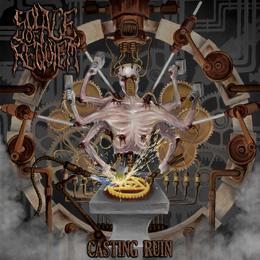 Release Date:
Friday, November 14, 2014
The American band Solace Of Requiem aren't a traditional band, nor easily comparable to one or another sub-genre whatsoever. In 2004 they released their self-called debut album, which brought very dense and old schooled Doom-Death Metal. The second one, Utopia Reborn (2006), was quite different, for adding somewhat classic Death Metal with lots of progressive elements. Then the band underwent some internal struggles, so it took quite some time before they were able to return with another album. But in 2010 Solace Of Requiem finally released the third album, The Great Awakening. This one, produced by Andy Classen (he mastered the former one, by the way), brought very technical Death Metal, less progressive than the second album, and containing quite some Black Metal elements. And now, ten years after the debut album, Solace Of Requiem (bass player / vocalist Jeff Sumrell, drummer Dave Tedesco and guitar player Richard Gulczynski) release their fourth full studio record, recorded at the famous Mana Recording Studio (Paths Of Possession, The Absence, Vital Remains, Goatwhore, Hate Eternal, Malevolent Creation and tens of others) with producer Brian Elliott (of Maruta / Infernaeon / Orbweaver / Dawn Of Azazel / Graves Of Valor / J.J. Hrubovcak / …-fame).
Casting Ruin is another, logical step within Solace Of Requiem's permanent evolution. This album, which has a total running time of forty four minutes, goes one step further than where the former one ended. Casting Ruin is a mixture of diverse things: high-tech Death Metal (including the discordant leads), Blast-Death (with monstrous double bass-drum passages), weird orchestrations and symphonic atmospheres, blackened outbursts and grinding eruptions, industrial soundscapes and diverse samples, brutal USDM etcetera. There are no ten seconds that copy themselves, yet remarkable is the organic and coherent structure of each single track. Each composition gets interrupted by unusual hooks, progressive intermezzos, dissonant hooks, tempo-changes (from lightning fast to blasting fast, and vice versa). The vocals are of a screaming kind, yet with lots of deep-throated grunts too. And then, the production: so precise, so focused on the right balance in between each component. This music asks for a neat mix, and it has got it.
It is impossible to describe this album song per song, because each single song is, as mentioned above, such an eccentric, permanently transforming creation. You need to undergo it yourself to understand. But believe me that it needs, once again, endurance and courage to get through. One might consider the result way too exaggerated, but I think it has rather to do with well-thought creativity and hyper-kinetic energy than exaggeration.