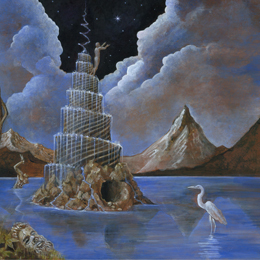 Spectral Lore are a Greek one-man project, formed in 2005 by Ayloss, whom you might recognise as well from Divine Element or his assistance for Warbled Arma. He created and released several recordings under this moniker, including I and II (how original), as well as some splits (amongst which one with Locust Leaves, and via the current label, the mighty I, Voidhanger Records, one with Mare Cognitum). Shortly after II, Ayloss started working on III, but there were some issues that hindered the recordings. To canalise his frustration, Ayloss put his energy in the album Sentinel, so as a matter of fact, III is not the third full length, but the fourth. Confusing but who cares???
Anyway, here it is, finally, the newest Spectral Lore-creation, consisting of two parts, Singularity (disc one, fifty minutes of length) and Eternity (disc two, thirty seven minutes of duration). The lyrical concept deals with the place of humanity within a cosmic reality, and the questions of existence as part of a greater whole. It does not deal with any form of religion, which distinguishes this stuff, textually, from most Black Metal bands or projects.
Singularity, the first part of III, opens with Omphalos, which immediately starts like a cosmic hurricane. It's a fast and power-driven epic that combines two important aspects that characterise Spectral Lore's majesty: fast and energetic Black Metal at the one hand, and atmospheric yet utterly obscure and ominous keyboard lines. And believe me if I say that this does work very well. Those keyboards are not of the symphonic kind, nor of the electronic, yet despite their prominent presence they do sound enormously hypnotic. After a couple of minutes, and this too typifies Spectral Lore's uniqueness, there is a drastic change. First comes an evolution into a soundtrack-alike aural sphere, and then the Black Metal part of the game completely slows down, with a melodious attitude. Tremolo riffs and even a couple of spoken words show a doomier, more funereal-oriented side, yet still with a lovely underground-spirit. The Veiled Garden, with its duration of over sixteen minutes the longest piece on the double-album (Omphalos clocks seven and a half minutes, all other tracks last longer than ten minutes!), starts very slow and comes with a not-that-subtle hint of neo-progressive Post-Rock (not of the avant-garde kind, however). It shows the experimental side of Spectral Lore's aural universe, yet (luckily) without forgetting the bleak, grim and oppressive obscurity that characterises this artistic sonic journey. Changes in speed, song structure and style permanently interfere, but without exaggeration. But I can understand that there isn't but a specific audience that can truly find itself into this unusual performance. Indeed this creation is not a sing-along-compilation, but an experience. The Veiled Garden is the best example, yet it goes for every composition on III. The Cold March Towards Eternal Brightness (14:42) has something I'd like to compare with Scandinavian or Canadian acts for it has a mostly epic approach (listen for example to these guitar leads); the final part of this track, by the way, reminds me to the latest efforts done by Burzum, but with a Hammerheart-proudness. The last track on disc one, Drifting Through Moss And Ancient Stone, is different for it is an instrumental piece based on synths, piano and acoustic guitars only, filled with harmonious chants at the end (once again Hammerheart-worship that appears…).
Pretty much the same goes for the second disc of III, Eternity, though it might be less progressive and much more heavy. It opens with a pretty powerful hymn, The Spiral Fountain, combining epic, very epic Black Metal with eerie atmospheres. It might be the most Folk / Viking-oriented track on III. A Rider Through The Lands Of An Infinite Dreamscape is extremely epic too, and pronounces the aggressive side of Spectral Lore once more. More than before, the Norwegian and Swedish scene from the nineties comes to mind, yet executed with that typical Spectral Lore-identity. Cosmic Significance, finally, starts little spacy (psychedelic Rock bands from the sixties and earlier seventies for sure would have this material used as introduction for a live performance, if they could), and it initially combines elements from tribal and ritual Folk, Dark Ambient, cosmic Psychedelica and atmospheric Dark Wave. After six minutes or so, when also electric instruments join in, the track slowly transforms into a heavier piece of trans-dimensional and progressive-edged Aural Art, until the very end, that brings back the dreamy spheres that coloured the first part of the song.
Conclusion: Ayloss did work on this opus quite a long time, but that shows, for this DCD is a complex exhibition of majesty and eloquence. As mentioned before I do not think it will please a huge audience, but those who have themselves freely lost into this ambience will classify this album at the top of their end year's list.
Personal note about the cover artwork: also different from the 'average' Black Metal record. It was created by Benjamin Vierling (he worked for acts like Watain, Christian Mistress, Aosoth, Avichi, Weapon, Deiphago or Nightbringer too) and has something surreal and symbolic (though Vierling is not a surrealistic artist). Since I am pretty enthusiastic about painters like Dali or Magritte, and because I see a certain parallel (especially with the latter), I cannot but mention this; it is an obligation I can and will not ignore. This said…