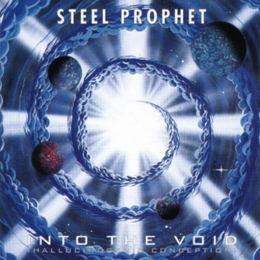 Release Date:
Friday, September 19, 2014
The beginning of this year saw the re-release of Steel Prophets 1995 debut album 'The Goddess Principle', and now Pure Steel Records releases their follow up 1997 album 'Into The Void', as well as the 'Continuum' EP.
If you are a fa of Helstar or Agent Steel, especially if vocals are concerned, and haven't heard this band before, you might be in for a surprise.  The sound of Steel Prophet  is very close to what both aforementioned bands released.  I also hear similarities in the vocals with a band like Mercyful Fate or King Diamond.  But I also hear some Fates Warning, and maybe even some Queensrÿche. With such a list of bands as probable inspiration for their music, it is obvious that this double CD, which is by the way also available on vinyl, is a welcome re-issue, since it originally came out on a very small German label Brainstorm Division, and consequently where near impossible to find. Any metal lover who's into these bands, and doesn't own a copy of this albums, can blindly buy them.