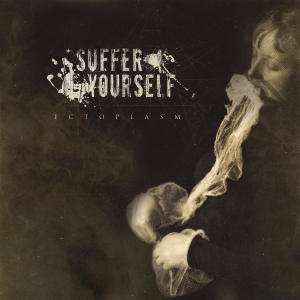 Release Date:
Friday, December 23, 2016
Last weekend I listened once again to Ectoplasm. Damn, it remains one of the best things within its genre. Then I realised that I did never write or publish a review on that album. Though, if I would have some end year's list for 2016, this specific release would absolutely be part of my top-10 from that very same year. So, I was wondering: why not writing something about that album anyway? It's never too late, and besides, I do write quite some reviews on older material, even from ten years ago, if a band or label asks me to do (and if I think it is worth spending my time and energy). So, that's why I am coming back to this album, even though it had been released at the very end of 2016, and having a load of more recently released material from the label involved. This material is just way too impressive not to pay attention to…
First a small introduction. Suffer Yourself were formed in 2011 as a solo-outfit for Stanislav Govorukha (a guy from Ukraine). He recorded and self-released a first demo, called Inner Sanctum, in 2012 (re-released on tape in 2014 via Contaminated Tones Productions). In early 2014, Cimmerian Shade Recordings brought out Suffer Yourself's debut album, which was recorded with some (session) musicians, and mastered by Greg Chandler. It was sort of a re-recorded version of the demo, yet improved and professionalised. Then things faded away into silence…
…until now. Stanislav wrote some new material, which he wanted to record in professional circumstances. He took care of the lead vocal parts, guitars and programming, and he did produce the album too. This time he was assisted by guitar player Lars Abrahamsson, drummer Kateryna Osmuk (she did the few soprano voices too), Malcolm Sohlen on bass, and Andrey Tkachenko (of N¢O / Human Collapse / Vin De Mia Trix fame) as guest for 'shrieks and choirs'. Everything was re-amped (whatever) by Dan Lowndes at his Resonance Sound Studio (think: Desolate Shrine, Absu, Draghkar, Spectral Voice, Förgjord, Death Fortress and many, many more). The final mix and mastering were done by Stanislav himself, except for the vinyl-edition, which was mastered by nobody else but Billy Anderson (Dukatalon, Amenra, Thrall, Grime, …).
Ectoplasm gets released via the digital sources, as well as on tape, on vinyl, and on compact disc. The latter goes for a four-panel digipack edition with a twelve-page booklet, or a 'normal' jewel-case CD with an eight-page booklet, including quite sober yet very appropriate, fitting artwork. The album consists of five compositions, which last in between seven and twenty minutes, clocking over one hour all together. Indeed, it's a lengthy trip, but as said before: it's worth it!
The album starts with the title track (10:32). It opens quite creepy, with haunting drones and eerie ambience, weird synth lines and ominous whispers. Where would it lead us to? But then it evolves into what we can consider as the core of Suffer Yourself: monumental Funeral Doom with a suffocative atmosphere. It's extremely slow and ultra-heavy, based on massive string lines and hammering drums, with wretched screams and, especially, extremely deep growls. But the melodies are permanently injected by changes in tempo, and several intermezzos. Acoustic and semi-acoustic parts, symphonic and spherical chapters, sharp and sometimes quite weird solos, classically skilled soprano voices and bewitching choirs (reminding me of those cult horror movies from the Seventies), spoken words, piano, some malicious outbursts, and so on. Indeed, the usual ingredients, but brought from a level that high… Besides the huge variety and besides the many levels and layers, this piece is so cohesive, so evidently natural in its execution.
These positive words (haha, 'positive words' for such a negative release; what a fabulous contradiction) do not go for the first track only. Abysmal Emptiness, the second track (16:30) (what a fitting title!), starts oh so funereal, oh so heavily grievous… 'Heavily' also goes for the severe instrumentation, which is simply gargantuan, colossal, monumental, megalithic (yeah, I can sum up some more synonyms, but it would be a loss of time – I just wanted to make a point…). It's quite 'traditional' if dissecting a definition for 'Funeral Doom', but it's much more once again. Here too, the song consists of different chapters, though cohesive for sure, with surprising twists and fabulous additions. Hypnotic leads interact organically with brutal excerpts (earlier My Dying Bride, Woods Of Belial, Ahab or Abstract Spirit are just some hints…), with desperate fragments, and with dreamlike (read: nightmarish) segments… Incredible how easy the permanently evolving melodies and structures can maintain your full attention!...
The Core is with its length of 7:15 the shortest piece on Ectoplasm. Even in such a compact composition, Suffer Yourself succeed to put so many layers in it. Here too hypnotism and heaviness go hand in hand. If someone would ask me how Funeral Doom sounds like, I would have this song as a primal try-out. The Core is like the core of this wonderful (and largely underestimated) genre.
But the band goes further than 'just Funeral Doom', as defined through the first two songs. Well, this is the very same case for track number four, Dead Visions, which is, by the way, and for what it's worth, my favourite one on this album. It clocks 19:25 minutes, and it's like a whole conceptual album on its own. This epic contains the same majestic elements from the former ones, with so many things to experience. There is much variation in structure, tempo and atmosphere, yet at the same time being really cohesive. The lyrics, FYI, contain excerpts from e.g. Edgar Allan Poe (no introduction needed, I guess) and Zinaida N. Gippius (a Russian writer / poet / philosophe who was married to Dmitry Merezhkovsky) – the latter being sung / spoken in the native tongue (but translated in the accompanying booklet). Anyway, Dead Visions is Funeral Doom from the highest order. Besides all things mentioned before, this track also includes xylophone-alike sounds, bells, trains (don't try not to believe me), weeping… The second half has so much to offer, and the finale at the end makes me fly away into formlessness. What beautiful, precious keyboards at the end of this composition, mingling delightfully with those simplistic yet genial bass and electric guitars, those slowly hammering drum patterns, these abyssal growls and the subtle use of bells!
Transcend The Void (7:31), finally, was created with assistance of Canadian Ambient musician François Bilodeau. It starts in a cold way, with a creepy droning melody, then joined by spoken words and whispers, still painting a saturnine soundscape of loss and desolation. The guitar lead is bewitching and mesmerizing (and hey, is that a hint of Twin Peaks going on, at about half of the track?). Even this Sludge / Drone / Doom epic expounds the glorious skills of Suffer Yourself.
Rather than depressing, this album stands far away from the DSBM-scene, for example. Both genres are closely related, but in this case the focus lies on disgust and disappointment rather than suicide. Yet the unhappy and melancholic character for sure remains!