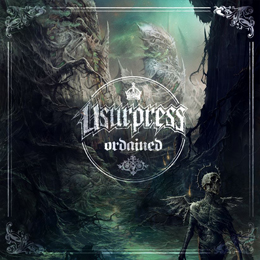 Release Date:
Friday, November 14, 2014
Those who are trusted with Usurpress' former material might be 'shocked', because Ordained did progress quite a lot since 2012's Trenches Of The Underworld or last year's split with Bent Sea (which I did like a lot; see review updated on February 23rd 2014). Hell yeah, of course I am exaggerating, but keep this fact in mind, will you. Bass player Daniel Ekeroth, singer Steffe Pettersson, guitarist Påhl Sundström and drummer Calle Lönnberg had the result of this recording session mixed by Darkane's Lawrence Mackrory, by the way, and Ordained has duration of thirty nine minutes only for twelve titles.
I can be short about this one. Ordained brings something that combines old schooled Doom-Death, punky D-Beat / Crust, avant-garde-styled Extreme Metal, Grind-edged Retro-Death and sludgy Groove (pretty cool how Usurpress do cover the Bo Hansson-track Lóthlorien, by the way), mixed with, believe it or not, some piano interludes, 'nyckelharpa' (cf. the outro) and flutes. There is quite some variation - a fine detail, knowing that not every 'song' sounds like the former one, or the next one.
Is it so great then? Well, actually, it depends on you (but that is the case for everything that has a 'sound' whatsoever; les goûts et les couleurs…, you see). Some pieces bore the sh*t out of me, but stuff like Deny Salvation (Wolf-Like Dogs) or Fan The Flames Of Madness are just horribly attractive (that's a positive thing, you know)! As a matter of fact, the second half, yet once again it isn't but undersigned who thinks so, is much more impressive that the slightly dull first part. The final score is mine, so you do not need to agree. But I am the reviewer right here… Aaaaaarghhhh!