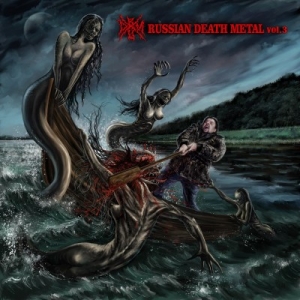 Album Title:
Russian Death Metal vol. 3
After Russian Death Metal and Russian Death Metal vol. 2, we can finally enjoy Russian Death Metal vol. 3, indeed the third volume with nothing but Russian Death Metal. I guess the smartest ones amongst you were aware of that; but just to make sure you're perfectly informed, it's my pleasure to make sure you're with me… You're welcome…
Like both former volumes, this compilation is a joint-(ad)venture in between Darknagar Records and the Russian Death Metal community (and being a registered trademark), and once again it comes with quite cool designed artwork by Onkel Hryum. Eighteen bands are represented with known as well as previously unreleased or new material. And once again the album compiles stuff from different angles and sub-genres within the legendary open-mindedness of the Russian Death Metal scene.
I initially wanted to introduce each single band, but that would bring me too far. It has nothing to do with being lazy, but this isn't 'but' a compilation (not meant the negative way, but… okay, I admit: I'm lazy, haha).
The Mutilator: hailing from the shores at the Volga, bringing quite traditional, old styled Death Metal with lots of symphonic keyboards
Corvus Lives Again: rhythmic and energetic Blackened Death Metal from Astrakhan (close to the Caspian Sea)
Dead Point: with members of The Nameless; focusing on the elemental basics of the timeless Death Metal current, with brain-smashing drum assaults, dual vocals and some technical (dual) riffs
Incarnator (Ekaterinburg): actually rather Thrash Metal-oriented, yet with quite some Death Metal elements
Permafrost: a solo-outfit by Ukraine-born Sergey Timoshenko, penetrating grinding elements within quite classic and somewhat bloody Death Metal nastiness
Total Despair: brutal and technical Old School Death Metal
Mонсальват (pronounced: monsalvat): melodic, rhythmic, technical and progressive mid-tempo Death Metal
Accidental Death Benefit: five-piece from the Irkutsk region, bringing fast and brutal Grindeath, yet with quite some surprises (cf. the doomy excerpt towards the end)
Panopticon Death from the city of Tagil: pounding and melodious (listen to those guitars!) Epic Death Metal (cf. the warrior mentality of Unleashed and Amon Amarth!)
The Nameless: main band of Nikita Popov, Arthur Gogol and Yuri Popkov (here with Ivan Rasstrygin); pure Death Metal, deskinned from modern trendiness or progressive semi-happiness
Alcoholic Russian Bear: as this young trio's band-name might reveal, this is not to be taken all too serious; though the members perform quite serious shit: morbid and nasty Grind-edged low-tuned Death Metal; from Russia's capital city…
Voices Of Death: energetic and slamming Grindeath from Voronezh
Gutted Bride: trio from the Murmansk region, bringing brutal and oppressive Death Metal, nicely balancing in between the technical progression and the elements from the early years' scene
Chestburst (from Moscow): a five-piece bringing surprisingly cool and slowly-slamming Doom-Grind-injected Traditional Death Metal, with passages 'slower than Doom'
Nakka (from Tver, at the North-West from Moscow): a combo that combines Groove with Grind and Death Metal; including a female 'vocalist' (damn, Gella's throat spits as much venom and sulphur as many male colleagues!)
Leichttraktor: bringing a short Grind / Death assault, rhythmic and groovy, highly technical and discordant
Absorbed Dose: a modern approach on the timelessness of Melodic Death Metal, including technical high-skilled elements, nice vocals (a blackened grunt and deeper growls), and melodious structures
Tekna: a mad combo from Pyatigorsk (close to the Georgian border), bringing a mixture of experimental Grindtech and the tradition of old schooled (Brutal) Death Metal, yet maintaining a certain melodic character
As you can see, there is quite some diversity, once again. It shows a certain open-mindedness, for the Death Metal scene might be accused as lacking inspiration and an own identity lately. Anyway, whether you agree or not, I think that this sampler represents quite a fine elite from the current scene in the Russian Federation. I can truly recommend this to any Death Metal fan, in order to find out which band will convince you to go search for their next official release.