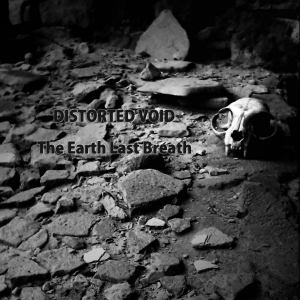 Release Date:
Saturday, October 27, 2018
The young Russian label Distorted Void has a small yet very interesting roster. It houses material by acts like Psionic Asylum, Onasander, Hiemal and Uzbazur, and they did compose and release some very attractive compilations too. I recently wrote a review for the first Forgotten, Abandoned, Desolated compilation, and this review deals with another compiled sampler, consisting by thirteen pieces by as much projects from all over our globe.
I will not go too deep into each single project's essence; I hope I can do it soon enough when I have the opportunity to write about a (full length) recording by them. But I am that kind to write down at least some initial thoughts on their contribution for this album, which is called The Earth Last Breath, and which has a total running time of one hour and a half (!). And hey, before going somewhat deeper into the matter, I would firstly express my appreciation for the sober and simplistic yet truly fitting and great cover artwork! It does show the essence of the concept…
Anyway, here's a description on each contribution represented. All tracks were written and composed for this compilation exclusively, which isn't but a blessing!
-) New Risen Throne, Rite(Last) (07:02): this Italian act once again paints a bleak, desolate landscape, based on Arctic-cold industrial sounds, horrific noisescapes and additional samples. Mind the evocative vocal sampling or the eerie synths that slowly 'grow'…
-) Archean Nights, Antediluvian Energies (10:39): one of the most oppressive acts from France, Archean Nights offer an asphyxiating form of unworldly Drone Ambient. Despite a certain monotonous minimalism at first listen, this piece is multi-layered, with different levels of sonic Apocalypse-worship…
-) Dal-Ha-Mun, Typhonian Visions (12:16): the inspiration of H.P. Lovecraft within the Dark Ambient scene is not new (at all), but this French act stands for pure dedication. This contribution too is the sonic definition of Lovecraftian elegance, gloomy and horrific, yet at the same time mostly enlightening and floating too. Breath-taking, even suffocating…
-) NotNotice, Anima (06:36): I think the Russian scene is one of the most convincing ones when it comes to Drone / Noise / Ambient stuff, and NotNotice (sometimes also known as notnotice without capital 'N') belong to the most prominent names within the scene. With Anima they deliver another grim and freezing piece of dreamlike (nightmares are dreams too!) darkened ambience, created around haunting synth lines and additional sounds…
-) Breinskam, The Secret Of Evil Under The Earth (04:22): Spain gets easily referred to fiesta, sunny beaches, cooled Sangria and midnight parties. But Breinskam gives a glimpse of the most obscure side from the Iberian peninsula. The Secret Of Evil Under The Earth could have been recorded at some catacomb of Doom, resulting in a mostly bleak and terrifying dronescape from beyond the abyss…
-) Infinexhuma, Visions From The Observatory, (09:46): somewhat more cosmic in nature, yet at least as oppressing as all other hymns on this compilation, Visions From The Observatory might be the aural opposite of California's multi-coloured party scene. Hypnotic soundwaves are injected by creepy synth / string lines and some metallic percussion, veiling the whole experience in an eerie post-meditative experience. Besides, the evil conjurations give the whole such a coil-black character. Remarkable yet truly beautiful is the outro, done by grand piano…
-) Utmark, Cold Wilderness (06:19): this German solo-outfit comes with a dissonant and energetic contribution, rather militant and warlike, yet still ultimately grim and oppressing. The background noises and evil voices (I think) make the whole little more chaotic, which strengthens the uncomfortable atmosphere…
-) Uzbazur, The Earth Last Breath (05:17): also chaotic in its representation, Italian project Uzbazur inject its chilly drones with different noises and samples. The result is a bizarre and psychotropic, yet overwhelming experience. The additional percussions go even further, giving the whole that semi-meditative touch of transcendence, then again a rather disturbing touch of discomfort…
-) Zalvs, Radiation Rain (03:26): a pity that this track lasts that short. This act is new to me, but the track Radiation Rain is highly intriguing. The organic mixture of mesmerizing ambience, horrid drones and samples from tempestuous energies (thunder and rain) results in a heavy, dense and foggy thing. Sultry and archaic…
-) Immorpher, Valleteth (06:00): a horrific soundtrack from the future, a vision of artificial mechanics that corrupts, that destroys human life, that's exactly what I feel when listening to Valleteth. This mixture of industrialised drones and Ambiental noises is desolate in atmosphere and fatalistic in mood. Astral terror…
-) Polterngeist, The Missing Memories (06:59): Polterngeist is a side-project of (mighty) Ugasanie, which brings another supreme Lovecraftian creation by means of The Missing Memories. It's a long-stretched symphony of despair and wrath rather than melancholy or grief. Gloomy and eldritch synths form a complex and highly gruesome experience, with so many levels, and so much to discover…
-) Jinthra, Kataton (07:25): hailing from Czechia, Jinthra are represented with a truly intriguing piece of aural art. Somewhat metallic and mechanical, this track is orchestral and grotesque (in the positive definition), rich and abundant, yet highly oppressive and mesmerizing as well. The voices do have something sacral, ethereal, fitting well to the vast symphony called Kataton. Martial and bombastic, esoteric and evocative …
-) Ruairi O'Baoighill, Disembody (06:07): Irish artist Ruairi O'Baoighill trespasses his boundaries (no limitations allowed) by entering a realm of utter darkness. Disembody stands for six minutes of marmoreal (not static!) waves of droning hypnosis, soft at the one hand, audacious at the other because of the grim sonics the track slowly evolves, yet it enthrals as from the beginning, growing sluggishly yet non-obstructive…
Well, it is a pleasure to crawl through this album. Distorted Void somehow succeeded to gather some of the best acts, and having them to create a specific composition. These tracks are enormously comparable, i.e. they fit to each-other, and still about all of them carry the typifying trademark of the project involved. The Earth Last Breath is nothing but a recommendation for all those who like their Drone / Ambient malignant and foul, yet also elegant and inspiring.
https://distortedvoid.bandcamp.com/album/the-earth-last-breath
https://www.concreteweb.be/reviews/various-artists-forgotten-abandoned-desolated