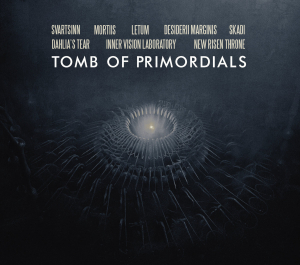 This review deals with the sixth release in the dark-mythological Tomb series, 'a dark exploration of the multifaceted entities of Sumerian mythology and the many dark places they inhabit. Places that still resonate with raw, ancient power'. This newest chapter invites the listener 'to the dark realms of Mesopotamia, where over 5.000 years ago a civilization both physical and spiritual was founded'.
Tomb Of Primordials, the successor of Tomb Of Empires, Tomb Of Seers, Tomb Of Druids, Tomb Of Ordeals and Tomb Of Wights, consists of six rituals performed by new and veteran acts on the label. Besides the digital edition, there are four-hundred compact-disc copies (reverse board matte six-panel digipack CD) with stunning artwork (of course) by Cryo Chamber's label owner Simon Heath (like some Lovecraftian trans-universal portal, like a gate to dimensions where ancient gods and deities dwell). Each composition deals with an entity from those ancient sagas, aurally translated through the most obscure waves of Ambient Music that fits perfectly to Cryo Chamber's roster.
Tomb Of Primordials opens with the track Crystal Scars Beneath A Bleak Sky, which refers to the demonic goddess Lamastu. Lamashtu (or Lamastu) was a daughter of the supreme god Anu. She fed on the corpses and blood of babies and incorporates different animal characteristics, seen from physical point. She was like a rival of Pazuzu and can be compared to Lilith, if you want to. Anyway, the track Crystal Scars Beneath A Bleak Sky (08:12) was created by Swedish act Dahlia's Tear, a project with a rich history in collaboration with the label. It starts with a transcendental, dreamlike introduction, firstly introvert and tranquil, yet slowly growing into more bombastic proportions. Diverse layers of synth get injected by percussion-like elements and additional samples, weaving a soft yet, at the same time, rather lightless web of sonic elegance. Long-stretched yet hauntingly-beautiful melodies wave by, mesmerizing and intoxicating. The contrast of the rich keyboards with the subtly-added samples and percussions creates a marvelous contrast in between the extremes of enlightenment and obscurity. Towards the end, things seem to fade away into an invisible abyss, yet it leaves the listener both confused and blessed somehow.
The demon Namtaru was a 'sukkal' (which is like a trustee, an advisor, a direct envoy) for / from Ereshkigal, the Lady of the Great Earth, the goddess of the Netherworlds. He was a demigod too with a dark, demonic hidden agenda. The second track on this project-album is called Seed Of Pestilence (07:35) and got created and performed by Germany's finest Skadi, referring to Namtaru. Ultimately darkened droning, monotone yet burdensome, creep closer, while distant drum-like beats enter, offering a ceremonial atmosphere. After a (short) while, things turn into a moody air, when martial percussions and bombastic synth enrich the initial structures. And still everything evolves, growing more copious in sound, over and over again, like a ritual eventually reaching its climax.
A partnership of Svartsinn and Letum resulted in a sonic identification / representation of the deity Pazuzu. The entity Pazuzu, for your information, balanced in between safety (as an opposite to Lamashtu for protecting pregnant women and newborn babies) and destruction (storm-winds were used as weapon). Those winds of destruction get used as introduction for their piece One By One I Broke Their Wings (8:09). Those winds never surrender, but step by step, this aural creation evolves over and over again, mingling sober, minimal excerpts with harsher, dominant chapters, organically interacting and morphing into / towards each-other. It has an industrialized character on the foreground, and an ethereal one at the background, yet these two antithetic elements seem to work very well.
The fourth track deals with Enki's two-faced sukkal Isimid, also known as messenger and attendant, if you want to, of Inanna. Chants For Isimud (09:00) is created and performed by a collaboration of Mortiis and New Risen Throne. As from the beginning, an ominous mist pollutes the air, for an oppressive ambience, despite being untouchable, covers the listening experience. After a while, additional sounds enter, lingering, deliberate, and at about 1/3rd of the track, percussion-like and vocal samples join as well. The amalgam of esoteric soundwaves, eldritch noisescapes, bewitching vocals and hypnotic drones gets canalized into a frenzy, disturbing yet manifesting  impression of otherworldly majesty and poise.
Polish act Inner Vision Laboratory brings Vermin Wiped Clean (08:06), narrating about the god of storms and wind, called Adad (or Hadad), and possibly being a brother of Lamashtu. Adad did have a destructive vision too, being able to destroy the harvest of the people. Opening with industrialized droning waves, the whole enters a realm of apocalyptic wastelands, while sounds of (destructive) nature (water and wind) join forces with ritualistic elements (like these horn-like and chime-sounding additions) and asphyxiating blankets of abductive weight. Once again, the whole expands the whole of the time, including moments of introvert integrity, yet never it fades away into repose, despite a certain hint of serenity.
The sixth composition on this new Tomb-epic is called The Faceless Bringers Of Pain (08:35), performed by long-time collaborator Desiderii Marginis. It tells about the demon(s) Gallu that accompanied mortals to the Underworld (being seven of them within the Babylonian mythology). Multiple layers of sophisticated synth-based grandeur get channeled into a dense, overwhelming conversance with a divination beyond human knowledge, performed through eerie, bewitching keyboards and auxiliary sounds from different sources. Lovecraftian drones, ethereal manipulations, evocative textures and militant mechanics; this doomed sonic synthesis results in another composition of both oppression and prodigy.
The illation is uncomplicated (in contrast to the sophisticated Aural Art): Tomb Of Primordials continues the magic and magisterial world of mystic, occult and mysterious ancientry through some of the most notorious projects on Cryo Chamber's (almost legendary) roster. Many tombs must follow…
https://cryochamber.bandcamp.com/album/tomb-of-primordials