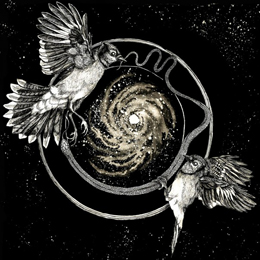 Release Date:
Monday, September 9, 2013
In spite of their bandname (which is Swedish for 'the water is whispering'), Vattnet Viskar is an American Atmospheric Black/ Doom Metal band from Plaistow, New Hampshire, where it was founded during Summer 2010 by guitarists Chris Alfieri and Nicholas Thornbury (the latter also taking on the task of lead vocalist), with Alan Sobodacha and Colin Conway ( see also Death Ray Vision, Frozen, Sentinel, Soul Remnants – formerly of The Year Of Our Lord, Cannae, and one-time live musician for All That Remains) competing the line-up on bass and drums respectively, in early 2011.
This line-up then recorded a 2-track demo, which the band self-released in April 2011, and worked its way up in small but smart ways, working up a strong presence in the local DIY scene and online. In early 2012 then, the band (who might by that time already have exchanged the original drummer for his successor Matt St. Jean – I'm afraid my info source is somewhat vague as to when that exactly happened) joined forces with small Brooklyn based label Broken Limbs Recordings for the March 20 release of Vattnet Viskar's self-titled 3-track debut EP. Thus was the quality of the outcome, that, without the band knowing, the EP was propulsed onto the year-lists of numerous respected North-American publications and websites. Also, it attracted the attention of Century Media, who not only signed the band but also helped 'em tour across the USA for most of the next year, with the most notable appearances being Brooklyn's Northside Festival, Raleigh's Hopscotch Music Festival, and several dates at the recent SXSW festival (4-23 March of last). Meanwhile, the band stuck a deal with European label Burning Worlds Records, for a distribution of their self-titled EP this side of the Atlantic Ocean (starting in January?), and continued writing sessions for their debut album in December 2012.
From April 21 to May 16 of this year, the band was at Universal Noise Storage to record the 8 track album under productional supervision of old friend Brett Boland. 6 weeks later, the band not only announced East Coast dates, but also the departure of their rhythm section, and its consequent renewal Joey Perron on bass, and Seamus Manihane on the drums. Halfway August, the band announced dates for a short early September tour with Just Us, followed by a more expansive tour with Intronaut most of the rest of the month. I'm sure more dates will follow, and I can only suggest that you check out the band's tour dates on a regular basis. I'm not certain whether Century Media will already send the band over to Europe though, so at the moment being us people at this side of the big blue yonder will have to satisfy our hunger with the album...
...which can be streamed in its entirety at the band's own (www.) vatnettviskar.com (courtesy of Pitchfork Advance), so hurry on over there for your earful of this great band! Wanna description first? Okay! Expect an Black Metal which is "Nordic" in its vocal delivery (screams, you know!?), and "atmospheric" in its instrumental delivery. I need to stress, that the "atmospheric" part is rather diverse, from more aggressive and slightly faster guitar work as might be expected from a Black Metal act, to including slower Epic and Doom-geared parts, and calmer passages with guitar work which reminded me somewhat of the calmer Ambient stuff of the band Main (anyone remember those Brits?), and even some surprising acoustic guitar parts! Beyond the attraction of the versatility which will capture occasional listeners from different genres, Vattnet Viskar truly know how to write catchy tunes? No wonder that the band was named "the future of Black Metal in the United States" by Pitchfork Media! Check out the music, and convince yourselves of the correctness of that statement!!!