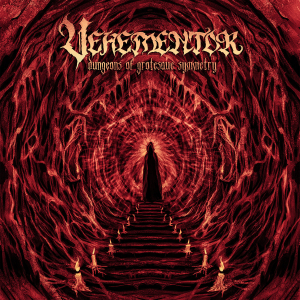 Album Title:
Dungeons Of Grotesque Symmetry
I have to admit that I do not know that much bands from FYROM aka the Former Yugoslavian Republic Of Macedonia aka North Macedonia nowadays. Born For Slaughter, Aeon Arcanum, Maras or Tremula are a handful of bands that I do appreciate, but I have to thank Satanath Records' Aleksey once more for introducing me to Vehementor.
Apparently, Vehementor are a combo from Kičevo, a city in the far West of the country (quite close to the border with Albania, for what this information might be worth). The band, with some members of Hardfaced and Melissa (it looks like a continuation of the past), started during the first half of this decade, but I do not think they did record and release anything 'huge' yet – until now. The quartet (vocalist / lyricist Darko Nasteski, drummer Zoran Stefanoski, bassist Ljupco Stefanoski, and guitar player / co-lyricist Nikola Peyoski) recorded some material during early 2019 at the Kreco Sound Studio with Zoran Kreco, who worked with Hardfaced before as well. After signing to Russia's Satanath Records, working once again with Murdher Records, five-hundred copies on compact disc got pressed / distributed. These ones do include a three-folded six-page booklet with the lyrics (in English), with visual art by the label's master Aleksey Korolyov (layout + design) and Paint-It Black's Vladimir Prokofiev (the guy behind In Tenebriz!), who worked with this label – and quite some others – several times before (think e.g. Lauxnos, Trond, All My Sins, A Thousand Sufferings or Ethir Anduin).
The nine pieces clock about half an hour. They do not exactly stand for something renewing, yet they rather pay tribute to the Nineties, when the harshness of the Old School and the progression of a new order joined forces. Yes, Dungeons Of Grotesque Symmetry surely brings something that withholds the melodic approach of the earlier years. It does have a distinct and manifest groovy attitude, with polyrhythmic riffs, little progressive rhythms and a highly melodious basic structure.
The tempo varies a lot, yet most of the time it dwells in between mid- and up-tempo. Seen the extremely groovy approach, that typical kind of speed lifts up the pounding heaviness, for Vehementor's aim is not to be the most extreme act. No, they rather prefer to focus on thrashing grooves and sludgy progression, with a certain, and quite remarkable, joy of play. No, I am not going to say that this is happy stuff, but somehow the energy and complacence are prominently present.
Another great element is the sound quality. The production is very neat, with a proper mix (once again a necessary detail for grooving melodies). But at the same time it purely breathes a Nineties atmosphere, for lacking of unnecessary gimmicks or additions. It's just the Music talking.
Dungeons Of Grotesque Symmetry might not be the world's most surprising album from the 21st century. But damn, believe me, since this is a strong effort for being a debut album.
https://satanath.bandcamp.com/album/sat252-vehementor-dungeons-of-grotesque-symmetry-2019
http://satanath.com/releases/item/sat252.html