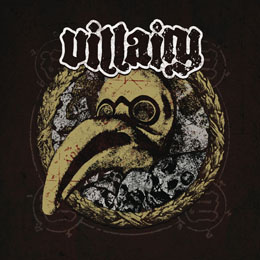 Release Date:
Monday, September 15, 2014
Villainy are a Dutch act that were born to pay tribute to the origins of Extreme Metal. The trio recorded this debut, ingeniously titled I (just joking; there's nothing wrong with such a title, of course) at Perimeter Audio with Marc van Duivenvoorde (Entrapment, Acid Deathtrip, F.U.B.A.R. etc.) and it lasts for forty minutes.
I just mentioned 'tribute to the origins', and then I am referring to the glorious eighties. Villainy perform that kind of Thrash that made the scene explode, both figuratively and from time to time literally as well. There are many hints from the Teutonic scene, from the Bay Area scene, from the Floridian scene, from the Lowlands (Holland and Belgium) scene, from the East-European one, from… No, seriously, this is the kind of f*cked-up Thrash nastiness that gave me beautiful wet dreams a couple of decades ago; and in a way (though modestly, and under severe self-control) it still does. Forget originality, because Villainy are not to reinvent the scene. But don't consider these guys as cheap rip-off sissies, because their persuasion is splendid. However, some more of an own identity would have played in these guys' favour. Most songs, despite nice song writing and a very satisfying performance, might not stick, are not memorable. Luckily there are some exceptions, also in favour of the necessary variation, like the Hellhammer-inspired Doom-hymn And Now She Is Perfect.
In any case, Villainy's I is not just recommended, but quasi obliged in case you adore powerful, energetic (international) Retro-Thrash!