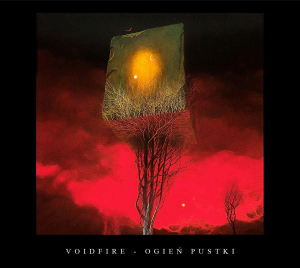 Release Date:
Friday, February 28, 2020
[last year I came in touch with Jakub from Voidfire, yet due to circumstances, I did not have the time yet to write a review on the sole full-length album by his band Voidfire; with some delay, but here are my thoughts on that debut…]
Voidfire initially started as an instrumental solo-outfit by Polish string-master Jakub Maciej Zdzienicki, somewhere in very early 2018, after he broke up with his former outfit Zimno. At the very end of Spring 2018, he joined forces with drummer Łukasz 'Icanraz' Sarnacki, known from his current or former cooperation with bands like Christ Agony, Pigface Beauty, Hermh, Abused Majesty, Devilish Impressions and many more. They recorded some tracks, but decided to add a lyrical / vocal part in order to complete their concept. So, eventually another Jakub started helping out the duo by providing a couple of fitting lyrics (Jakub Lisicki), and in Spring 2019 Lilla Veneda's frontman Krzysztof 'Virian' Sobczak was recruited as vocalist.
With this line-up, Voidfire recorded the full-length Ogień Pustki in August, September and October 2018 at the Dobra 12 Studio (the lyrics were registered afterwards, in July 2019, at Impressive-Art Studio). It is a six-tracker that lasts for about forty-five minutes, being released totally independently via digital sources, as well as on compact disc. The latter comes in a four-panel digipack edition, limited to 150 hand-numbered copies, with intriguing cover-artwork based on a work by surreal painter / sculptor / photographer Zdzisław Beksiński (+ eight-page booklet with the lyrics). There aren't but two hands full of physical copies left, so you need to hurry up…
Anyway, the album deals with the concept of personal struggles and doubts, emotional pain and grief, and the permanent quest to find answers on both daily-life and existential questions. However, the lyrics are in the Polish language, so I can't explain the details.
Ogień Pustki, which means something like the void's fire indeed, stands for highly melodious Black Metal with a traditional (so-called 'Orthodox') execution and a huge dose of atmospheric aspects. The stuff is strongly guitar-oriented, with tremolo and dual riffing / leads, yet at least as much attention for all other instrumental and vocal elements. Those vocals by Krzysztof sound really rough, not really high-pitched yet quite intense, even somewhat sulfurous and razor-wired. But there are other timbres too: spoken words, grimly whispered voices or almost prophetic sighs, some deep-grunting throats etc.
Because of the decent mix (also done at the Dobra 12 Studio after the vocals were recorded), basses, acoustic guitars, rhythm guitars and the whole drum / percussion section too can be considered of high importance. It's the whole rhythm section, evidently, that supports the lead guitars, melodies and vocals. When talking about the drum-parts, well, they are clearly performed by an experienced musician (I summed up some bands Łukasz is or was involved with in a former paragraph), and the variation of the percussion performance is remarkably distinguished and important, for it defines the actual atmosphere of each single individual excerpt on this album.
Voidfire often make use of several acoustic or semi-acoustic fragments too. Okay, it follows the traditional path, but without exception these acoustic-based excerpts strengthen the epic and harmonious character of this conceptual album. Just like some of the main melodies, it adds a certain degree of melancholia, yet not of the depressing kind; it's rather defining the intumescence of the underlying ideas. Seriously, the use of acoustic fragments is not only extremely important; it does fit correctly, and gets brought with an outspoken, confident attitude.
The better part of the album balances in between mid-tempo to rather fast. During these passages, the energetic level overwhelms and surprises, yet without exaggeration. Once in a while, however, everything slows down, then again there are a couple of high-powered blasting eruptions too.
In conclusion I can add that Voidfire's debut-album is not exactly a recording that reinvents the scene. Then again, the result is stunning, despite its traditional approach and execution. The addition of many acoustics and the variation in melody, structure and tempo is a surplus, but above all, the detailed song-writing, the energetic performance and the cool, well-balanced sound quality make Ogień Pustki a recommendation for amateurs of Melodic / Atmospheric / Traditional Black Metal.
https://voidfire.bandcamp.com/
https://soundcloud.com/user-196371258