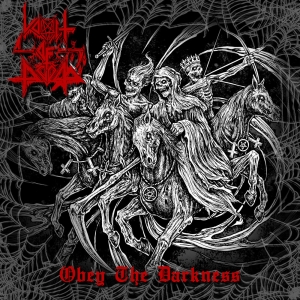 In their five years of existence, Argentinian combo Vomit Of Doom recorded several demos and EP's, and at the end of 2014 the Thai label Inhuman Assault Productions did release the five-track cassette Obey The Darkness. It was an omen for their upcoming debut full length album, which contains the very same name (and which, evidently, includes pretty much the very same inhuman sonic assaults). It gets released by Russia's (top) label Satanath Records (thanks once again to label owner Aleksey for sending me this material – I owe you, brother!) and the strongly upcoming (also) Thailand-based Hell Productions. The material was recorded by Venomous Abominator (impact on the graves and voices of Hell), B.Time (bass of Execution), Endless Malevolence (violent guitars of Doom) and Artillery Command (devastated guitars of Holocaust) during December 2014 and January 2015.
Seen the band's name, the album's and song titles, the members' artist names and their instrumental description, and the (superb – oh, I do like this kind of visual filthiness) artwork by Sickness666, it's clear what kind of Speed Force we might expect. It turns me on…
Obey The Darkness, which lasts for thirteen minutes (for thirteen pieces, including some bonus tracks from the demo sessions), starts with an acoustic intro (called Haunting), but as from Perversecution on, Vomit Of Doom please the sick (wo)man's brain with primal and nihilistic, violent and rhythmic Black / Thrash ugliness from the Old Skool. No compromises, no remorse, this material contains everything that defines the booze'n'bitches / leather'n'bullets / misanthropy'n'anarchy / fuckyou'n'fuckmetoo-attitude. It's fast and violent, with fierce melodies, a remarkably heavy rhythm section (what a drum parts, with thanks to the nice mix!), fabulous soloing (!!!) and gurgling grunts, combining the nastiest elements from the oldest school of the Speed, Thrash, Heavy and Black Metal scene. And damn yes, it lacks of originality and invention, but this kind of material has an inborn allergy to modernism or progression. Therefor the quality of the song writing prevails on top of being renewing, evidently. Besides, the production sort of creates a sound that is both decent and acceptable, as well as rough and raw à la the Old School, and isn't that the ideal way to get aural pleasure? Indeed it is!
Rock 'n' Roll for the dark-minded souls amongst us… Venom and Bathory, Evilspell and Cendra, Discharge and Bunker 66, Profanatica and Onslaught, Bewitched and Nocturnal Breed, Satan's Wrath and Possession, you see the picture?… Two remarks: the lack of variation, and it does bother (even me), and the inferior sound of both bonus track, which does not irritate me (because it's a bonus, you see…- which we need to be grateful for, that's why).