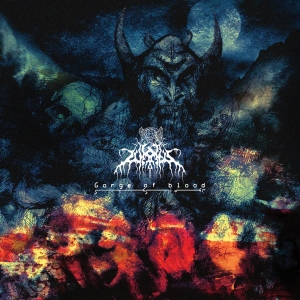 Zurvan are an act that originates from Persian soil, but in mean time the main member moved over to Germany. Yet still, the core lies in Iran. Nowadays, there are some more combos and projects coming from those areas, and I do appreciate quite a lot of them, whether dwelling in spheres of Funeral Doom / Black Metal, or rather Drone / Ambient / Noise laden stuff. For sure, there's a modest, somewhat hidden, yet quite potential scene going on out there in Iran. Zurvan surely are part of that current.
There was an album before, in 2014, if I was informed correctly, but since I have no idea about the concept or sonic result, I will not come back to that one (except: I might be willing to search for that material, if only to compare it with this sophomore recording). Zurvan (named after a godly-demonic character in StarCraft / Final Fantasy) have now recorded a new album, released by my dearest Satanath Records, in co-operation with Israel-based The Eastern Front. It comes in an edition of 500 copies, with a four-page booklet and a limited biographical / specific information whatsoever.
But it does not matter; it's the aural result that counts. Well, Zurvan brings something like, eh, you've heard it before Black Metal. Damn, such a description / introduction does suck, does it not?! So, let me explain myself. Gorge Of Blood totally lacks of an own-faced identity. It's totally based on the tradition of trans-European Black Metal from both the Nineties and the current millennium. This goes for both song writing and performance, both seeming to be some collage from different episodes from the past. The guitar riffs are quite Swedish-oriented in melody, the vocals do not really convince either, and the mechanical drum patterns might overwhelm the rest of the performance. But especially within the (few – and that's sad, for I could have appreciated more of it) somewhat Oriental riff-melodies, I get totally convinced, thrilled, satisfied, by this project's grandeur.
So, is this a bad album? No, it is not! It might be missing so many opportunities, and lacking of highlights, but actually, I think Gorge Of Blood is full of great intentions. And no, I am not exaggerating if I continue with an impression of failed, underestimated and misunderstood craftsmanship. Despite that lack of prominence, the will to conquer is more forthcoming than expected at first listen. Seriously, I've heard worse stuff, pretending to be able to convince. The modest approach of Zurvan effects reliance and comfort. A surplus, for example, is the variation in tempo at the one hand (never exaggerating, yet balancing in between everything from quite slowed-down to energetically fast), and structure at the other (melodic pieces interacting with more rhythmic, pounding ones). And with tracks like Swamp (a highlight, an orgiastic pleasure to experience, believe me!!!), Zurvan render their professionalism.
Besides, the sound production is enormously cool, with a fine mix of all aspects involved. Maybe the somewhat mechanical drum patterns might have been less excessive in sound from time to time, and those vocals (quite monotonous, I have to say) could have shown a more open-minded attitude; but then again, the bass lines, for example, are so cool in essence. So, it's like balancing towards one of the opposite sides, in conclusion.
As a reviewer, being both subjective and objective, I must admit that my doubts are inferior to my moments of satisfaction. For sure this album might not convince the whole Metal community, and I do understand why. Yet then again, there is a huge does of benevolence, a source of great inspiration, and quite some intentions of craftsmanship. That, combined with an acceptable production quality and, hey, why ignoring this, a huge inspiration by the Scandinavian scene – the tremendous Swedish one in particular – is no reason to disapprove this album – at all.