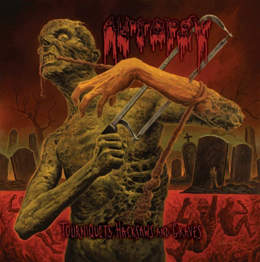 Album Title:
Tourniquets, Hacksaws And Graves
[because the net simply exists, and for I have too much stuff still to review, I had to keep it short, but you will get the essence right here]
History: formed in 1987 in San Francisco, California. Majestic 'early years', and therefore one of the most influential Death Metal acts ever. Break from 1995 till 2010, then glorious comeback; old guys (just like me) that still beat the youngsters mercilessly!
Line-up on this recording (pretty predictable, but I do praise this cohesion!): Chris Reifert, Eric Cutler, Danny Coralles and Joe Trevisano. Producer, once again (at least since the band's resurrection): Adam Munoz at the Fantasy Studios.
Long-time label: mighty Peaceville Records. Respect!
Tourniquets, Hacksaws And Graves is Autopsy's newest creation (album n° 7), lasting for fifty minutes and still doing what they always did: performing ultra-heavy, ultra-brutal and ultra-ultra Death Metal from the nastiest kind. The band always sort if injected their stuff with loads of Gore, and of course this still counts. It goes for the compositions, yet surely as well for the sound. This material is majestically mixed ones again (every element lives in perfect balance with any other element), and it is unique to have such a putrefying sound combined with, or carried by, such intense craftsmanship. …almost beautifully filthy… Once again we might enjoy the typifying extremes of this nastiness too: faster splatter-pieces go hand in hand with muddy Doom-trash, yet always maintaining the initial Autopsy-characteristics.
But… It's not that I think the band went 'softer' (believe me: they do not!), yet isn't the major part of Tourniquets, Hacksaws And Graves not slightly different in some aspects? The first part of The Howling Dead, for example, rather reminds me to Mayhem's Ordo Ab Chao; a couple of times I hear riffs in the vein of (earlier) Death; there is little more experiment and less straight-forward brutality; there are more groovier passages; what about a couple of quasi-fingerspitzen solos; and isn't there a darker atmosphere this time, softly flirting with the Black-scene; etc… These aren't but rare details, but they increased in comparison to the past. Of course it might not bother any Autopsy-fan, because the basics still breathe the very same stench of rotting entrails. Still I think this album does not satisfy the way I was expecting. I won't call most of the tracks just 'fillers', but there surely is less inspiration and more, well, let's call it 'safety'. I don't mind the limited diversification, nor the lack of originality (on the contrary; I'm glad this band stays true to its roots!), but I do miss blazing conviction. With last year's The Headless Ritual we could enjoy the one killer track after the other; Tourniquets … unfortunately only sporadically glares…