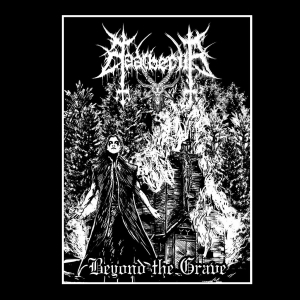 There are several bands called 'baalberith', named after a demongod, an entity also known as Ba'al Berith and closely related to El Berith (sort of spiritual 'twins'). I am not going to write down an essay on this grand duke; I guess the internet, and the Old Testament, might satisfy your quest for knowledge.
Anyway, the band Baalberith which I appreciate a lot is the one from the English Midlands. This one was formed at the very end of last century (actually as Black Death) by the sole remaining member Razakel, also known from his current or former involvement with bands and projects like Wolves In Exile, Skiddaw, Niekinti, Razakel Krieg and several others. Throughout the years, there were a lot of line-up changes and some breaks, and somehow this also resulted in a certain stylistic evolution.
Beyond The Grave somehow is like a come-back thing too, for it has been almost six years that this band's last release (Apparition Of Skulls) saw the light (correction: there is no light involved!). However, after six winters, Razakel and a totally renewed crew (including members of e.g. Congenital Mutation and Inert), return with the EP Beyond The Grave, which was independently released  in Spring 2020. Purely informative, but in the meantime (November 14th 2020), Wulfhere Productions re-released this material on compact disc, extremely limited. This recording consists of five elegies, clocking almost half an hour (26:35 actually), and the band – and this is a fragment I stole from their biography – tries to 'incite serenity with every track, never faltering from bringing forth what the band originally set out to do; cause chaos and mayhem through the power of metal'.
So, those trusted with the earlier works of Baalberith do know that they did come up with a very own-faced approach. For some reason, they have always offered a very own sound, a performance quite characteristic and incomparable (despite the inspirations from the Second Wave). Beyond The Grave is a next step (a huge step!) within that eccentric existence. It is all about new and old material, like a gathering of the Past and the Present, seen through visionary glasses, reworked into a renewed state of being.
The EP starts with Bleeding The 5000, which opens with a remarkable intro: a very epic guitar melody, supported by martial drum patterns, dreamlike synths, and a modest, low-tuned bass at the background. It sounds more mature and less cheesy than the 'old' version from more than a decade ago for sure. But soon things explode, evolving into a harsh, merciless and brute sonic monster. Remarkable is the evolution towards a rather Blackened Death alike sound, compared to the former Second Wave styled Black Metal sound. It's that guitar sound, I guess, and the rhythm section, that might offer a hint reminiscent of the Swedish scene for some reason. But hey, I won't start to compare this material with Swedeath-oriented stuff, of course, for this EP remains within the roots of blackened elegance. Anyway, Bleeding The 5000 comes with a fine variety in structure and tempo (that variation is a strength courtesy of this specific project for sure), sometimes marching forward with militant warmonger, then again decelerating into an aural obscurity. At a certain point, the addition of mesmerizing keyboards lift the whole up to a level of occult fantasia, and the guitar lead towards the end is a memorable expression of craftsmanship in the vein of the best Heavy Metal tradition. And 'Heavy Metal', well, for sure the riffing has that typifying fingerspitzengefühl reminiscent of the better NWOBHM bands. Very intriguing too are the voices by Mister Razakel, raspy, rusty, barb-wired…
The opening sequence of Infinite Malevolence (this composition originally appeared on the former full-length and the 2014-demo, yet has now been deconstructed and rebuild too) is an interesting thing, for it has that mechanical sound that I would rebaptize as 'Blackcore' (freedom of word-play). Actually, this whole piece is a strange thing to experience (even more than the original from 2014), with somewhat bizarre breaks (like that groovy intermezzo on bass as introduction to that monumental solo), intoxicating tremolo leads, those sulfur-breathing vocals, an industrialized sound, eccentric riffs, contrasting drum patterns, hypnotic synths, and so on. This trespasses any artificial border of genre-limitation, entering aural realms of wonder and bravery.
The version of A Fist In The Face Of God (also initially written at the beginning of last decennium) is an extremely militant one, with thunderous drums as spine. This song combines the harshness of malignant War / Black / Death Metal with the subtlety of atmospheric ambience. And once again: what a fine-tuned soloing.
The new and slow-paced version of Abortion Of Religious Futility surprises with that fine equilibrium of unstoppable heaviness and dynamic power at the one hand, and that technically high-skilled execution on the other hand. It withholds both energy and attraction, with those dueling tremolo riffs, that groovy bass play, willful drum-work and so much more. This piece penetrates the worlds of traditional Doom-Death Metal, while maintaining the bleak, grim origins of the blackish past.
My Withering Soul (also ten years of age), finally, starts with almost divine synths, introvert acoustic guitars and subtle percussions, soon joined by low-toned bass lines, pushing drums and additional strings. Then it sort of discloses its true face: a scarred one, tormented, ancient, yet strengthened by power and knowledge of archaic character. This leads are dismal and dim, the 'full' vocal appearance spreads a message of desolation and wrath (purely sonically; I do not even refer to the lyrical context; it's just that vocal tangle that reaches out for transcendental sentiment). And hey, what a killer-thing, that furious – yet still melodious and technical – acceleration towards the end…
Once again Baalberith succeed to bring something that defines their own sound. Even though Beyond The Grave does not consist of new material, these reinterpretations sound unique once more. Besides a great execution, the production + mix are like the pick of the bunch. I hope we do not have to wait another five-six years to experience the next chapter in the (hi)story of this English project.
https://baalberithuk.bandcamp.com/releases
https://www.concreteweb.be/reviews/baalberith
https://www.concreteweb.be/reviews/baalberith-loup-noir-azoic-r%C3%A1n-v%C3%A1bo%C3%B0i
https://wulfhereproductions.bandcamp.com/album/beyond-the-grave