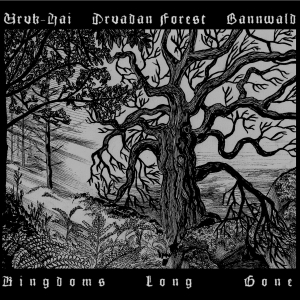 …I know that this album got released almost one year ago, but so what?...
Antiq is a label from Angers (an ancient and beautiful city close to the river Loire, in an environment with great wine houses – but that's another thing), with a very limited roster; yet actually it is an extremely promising one (and unfortunately underestimated, but that will change for sure). Their releases are not 'common', i.e. that each single one dwells within sub-genres that are quite original, unique, or at least intriguing. …not always what the 'big masses' are used to. More than often, the result is fairly surprising.
But anyway, the label did release a fine split with three mostly interesting projects that have nothing to do with (Black) Metal – at least, not when referring to their specific sonic approaches. Kingdoms Long Gone compiles three acts that perform Dungeon Synth with a medieval twist and a heroic, victorious character. …a darkened approach too… All three outfits are solo-projects by experienced musicians who are also active within the (Black) Metal scene, by the way.
The split opens with three pieces by Bannwald, one of the many projects of Stefan Traunmüller (also involved with e.g. Golden Dawn, Apeiron, Rauhnåcht, Wallachia, Schattenfall a.m.m., as well as the guy behind the infamous Soundtemple Studio). Fortress I, Fortress II and Kingdom Long Gone are 'shorter' songs (in between three and eight minutes), but they do have a lot to offer. They come with several layers of synth majesty, many related melodies that act in a grandiose symbiosis of epic, victorious, even warlike pride. A nice detail is the addition of different percussions, from martial drums to gently performed tambourin, hand drums, timpani and many more. The atmosphere is quite enlightened, yet it certainly withholds a dark, doomed attitude. Especially Fortress II has that specific medieval and folky ambience, somehow light-footed in execution, yet convincingly in-depth in sound and performance.
Next are two compositions, also from Austrian soil, created by Alexander 'Hugin' Wieser's Uruk-Hai (other projects are legio: Hrossharsgrani, Eismond, Hrefnesholt etc.). I do follow this project since, eh, ever, but it has been a whole since I came in contact with new stuff. Well, once again I am truly pleased with this project's contribution. Orkish Hymn starts with a militant, ominous introduction, but it slowly builds up towards a grand epos, a gallant war-anthem with an obscure approach. The Birth Of An Uruk-Hai has a comparable structure, though the ambience is more bombastic and heavy. The track too grows into glorious, combative proportions, caused by, among other things, the typifying martial percussions, the (sudden and brief) use of electric guitars (?) and the abundant synth layers.
Kingdoms Long Gone ends with a very lengthy track by Finnish outfit Druadan Forest, a solo-project of the great Ville 'v-KhaoZ' Pallonen (think: Azaghal, Oath, Kalmankantaja and so many more excellent projects). Tuhat Tähteä Ikuisuuden Viitassa (almost twenty minutes of length; it means something like 'a thousand stars in the veil of eternity') opens in a mostly integer way, gloomy and dreamlike, but after two minutes and a half everything smoothly evolves in something that reminds me a lot of the earlier works of Mortiis (the Cold Meat era); even the 'spoken' voices are, in a way, comparable. But Druadan Forest has a very own approach, and goes beyond the trollish adventures of the higher mentioned dungeon wizard. A lengthy epic, so it might be evident that there is a lot of variety going on too. Indeed, there are different chapters, each of them long-stretched and somewhat repetitive (nothing wrong with that!), returning / repeating once in a while, and maintaining a profound coherence for sure. Besides, the glorious Dungeon Synth gets enriched by elements from Dark Ambient and atmospheric Winter Synth, and this in a mostly organic way.
This is a split that many Dungeon Synth adepts will appreciate, especially when you're into the more obscure, grim and orchestral regions of the scene. Forget the playful 8-bit approach, or the Medieval Folk joy with that ironic Chiptune-oriented thing, for this split-album brings forth earnest ambiance. Recommended!
https://antiqofficial.bandcamp.com/album/kingdoms-long-gone
https://www.facebook.com/antiq.label/
https://www.concreteweb.be/reviews/druadan-forest
https://www.concreteweb.be/reviews/chained
https://www.concreteweb.be/reviews/incipient-chaos
https://www.concreteweb.be/reviews/cr%C3%A9atures
https://www.concreteweb.be/reviews/rauhn%C3%A5cht
https://traunmuller-archives.bandcamp.com
https://druadanforest.bandcamp.com/releases
https://druadanforest1.bandcamp.com/releases