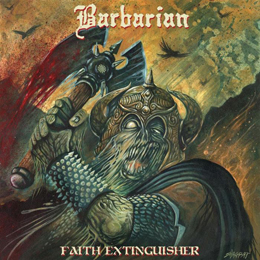 Release Date:
Monday, February 10, 2014
Italian trio Barbarian (bassist D.D. Prowler, guitar player / vocalist Borys Crossburn, and drummer Lore Steamroller) are a pretty young formation that started as some kind of Hellhammer / Celtic Frost worship-entity. They released an untitled demo-tape in 2010 (self-released), a self-titled mini in 2011 (as a matter of fact, this was the vinyl-edition of the demonstrational recording from 2010), and they contributed on a split with country fellowmen Bunker 66. Now it's time for the band's official full length debut, Faith Extinguisher, which lasts for thirty four minutes. Like the EP and the split, this album gets released via Czech-based label Doomentia Records, and the material was recorded, mixed and mastered about a year ago (what took you so long, guys?) at the Emme Studio.
Barbarian's first efforts (cf. the demo and the EP, since both present the same stuff) were, as mentioned above, heavily inspired by Hellhammer and earlier Celtic Frost, but the band's stuff on the split did evolve a little. And this evolution continues with Faith Extinguisher. Of course there still are some influences by the Swiss masters of Graveyard Metal (don't you think this is a decent description?), but the band surely implements elements from other bands and projects. The opening song (the title track) rather reminds me to a mixture of Motörhead, Sodom, Venom and Discharge, with a Seventies / Eighties vibe that also contains hints to Heavy (NWOBHM, with Saxon, Maiden and Priest in mind!) and Thrash Metal. Nowadays we do have hundreds of bands that bring material within this very same vein, and sometimes it works, sometimes it does not. When it comes to Barbarian, I am not convinced after the first songs. This Heavy / Thrash / Speed / Black Metal truly spawns Old Skool, and in comparison to some other current formations, this one is not purely focused on 1) 'just' Black / Thrash worship, 2) pure Hellhammer-worship, or 3) Satanic worship. It is a global mixture of Bunker 66, Venom, Celtic Frost, Bathory, Bulldozer, Nocturnal Breed, Dishammer, Kreator, Mercyful Fate, Toxic Holocaust, Iron Maiden, Motörhead, Desaster, Discharge, Sodom, Warfare, ...; I think you might understand my point of view. It rocks and it rolls, it's fun but of the sarcastic kind (no joy, except for joie de jeu), and it puts an erected middle finger deep in the behind of any narrow-minded, modernistic tech-purist. Maybe this will help: Barbarian declare their stuff to be AWOSHM, aka Ageless Wave Of Stubborn Heavy Metal. Does this cover the flag? I think it does despite some ups and downs.