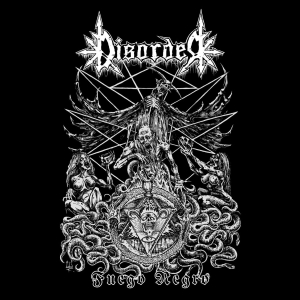 El Salvador is not the hugest country when it comes to Extreme Metal, but it houses some interesting bands for sure. One within quite an impressive list must be Disorder, band that was formed almost two and a half decades ago. The band was active, especially in their local scene (Latin America), and in 2002 they independently released their great debut Voces De La Tumba. Unfortunately, some members decided to form a new act (Dreamlore), so Disorder split up short after the release of their first full length. However, in 2011 frontman Jorge 'M.Q.' Montesino (you might know him as well from e.g. Conceived By Hate or Morbid Stench) decided to reform the band. This resulted in En El Rio Del Olvido (http://www.concreteweb.be/reviews/disorder-0), which was released via Morbid Skull Productions. Via the very same label, a split-tape with Swedish horde Total Inferno followed in 2016. Together with Iosif 'V.K.' Najarro, Jorge's colleague in e.g. Conceived By Hate or Morbid Stench, Jorge wrote and recorded a third full length studio album, Fuego Negro. Once again it gets released via Extreme Metal label Morbid Skull Productions (also from El Salvador), this time in co-operation with Russia's finest Symbol Of Domination Productions.
Fuego Negro (which means 'black fire') is a powerful seven-tracker that clocks half an hour. The compact disc (regular jewel case) comes with a twelve-page booklet, which contains explicit artwork. The CD version was printed in an edition of 666 copies – does it mean something, this number?
Compared to the past, in all honesty, Disorder did not evolve that much. Still this project creates quite 'traditional' Death / Thrash Metal with a distinct approach in the vein of the era late eighties / very early nineties and many hints of D-Beat violence and blackened terror. And that somewhat disappointing, for everything sounds so predictable. It's great stuff for sure, but you might have heard it before. But anyway, it is clear that the skills of song writing and performing, both of them, are high, and then I am referring to both musicians involved. The essence is based on a heavy-rhythmic structure, with a full wall of guitars, basses and drums as basement. All this gets brutally raped by piercing riffs and brain-with-a-rusty-axe-penetrated guitar solos, and of course the raucous, blood-spitting throat of Jorge. He's talented when talking about technical craftsmanship for sure, and he able to create decent hymns of morbidity and brutality. Nothing more, yet nothing less either.
But as mentioned, I do miss some 'spirituality'. It's great to pay tribute to the origins of all sonic evil. It's fine to notice such crafted and skilled attitude. I am sort of disappointed in the predictability for most of the tracks. You just feel when a next solo will show up, or another break or tempo-change. Yet still there are so many comparable bands that are not able to write and perform at this high level, so I can't destroy this result either. On top of it, the actual song writing has improved, and the sound quality is so great – I thought the production of the former release was too clinically produced, but Fuego Negro sounds correct. So let's head-f*cking-bang your (ugly) head and enjoy some uncompromising Death / Thrash Violence from El Salvadorian soil!