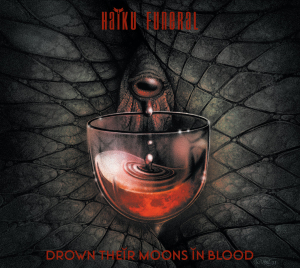 Album Title:
Drown Their Moons In Blood
In all honesty, I have seen this duo growing and growing throughout their time at the Aesthetic Death offices. I did not dislike Nightmare Painting at all, but I did 'miss' something essential. With Hallucinations, I enjoyed the important step forward enormously. But as from the last album, Decadent Luminosity, I was convinced about the impact Haiku Funeral have on my open-minded state-of-mind (for what it's worth).
I know that the release of their last full-length was done more than a year ago, but it is never too late to, and so on; you know... And since I want to make sure this review is finished before a new Haiku Funeral album arrives (in 2023, I sincerely hope), I will now focus on Drown Their Moons In Blood, released once again digitally and physically via the mighty Aesthetic Death family in an edition of three hundred copies. It's a three-folded digipack, including an eight-page booklet with these unconventional yet really cool lyrics and with purely enthralling visual art.
Dimitar Dimitrov (vocals, synths, electronics, theremin) and William Kopecky (vocals, sitar and bass-guitars) actually recorded this material over a period of two years (at their befriended Daemonicreation Studio) with session assistance by Craig Walkner on drums for a couple of tracks. Mastering was done, once more, by label-mate Greg Chandler (The Priory Recording Studio), and the result comes with truly amazing cover artwork, sort of offering a visualisation of Haiku Funeral's obscure, ritualistic and psychedelic conceptual approach. Or as mentioned on their page: think of a universe where Shiva roams fire-drenched post-apocalyptic planetscapes on a cataclysmic acid trip… a journey through black holes of Luciferian consciousness expansion. Isn't that sweet?...
The seven chansons on Drown Their Moons In Blood last for an hour, which makes this album, as usual, a challenge and an adventure. Again it does show another dimension of this duo's sinister world, guiding the listener into obscure, surreal spaces beyond the subconscious. It's like a mesmerizing web of visions, deeper than the bottomless void, higher than a cosmos yet to be created by a demiurge yet to be born, further than the existence that lies behind the mortal end of unphysical time and space. …oops, looks like I am embodied by this album in a psychic sense of conception, hehe…
In a general approach, Drown Their Moons In Blood are like an organic amalgam of Occult Drone, droning Doom (Metal) (or doomed Drone?), cinematic and ritual Ambient, and hints from many other angles (shamanism, ritualism, horror, mythology, esotery, and so on). The use of instruments like sitar and tribal percussion trespass the limiting borders of normalism by adding a specific Oriental-like mood, as if ancient evil spirits leave their unsealed catacombs to haunt and to feast. It fortifies the hallucinogenic approach.
More than before, the electronic effects are replaced by transcendental synth-waves at the one hand, and deep-droning string-texture at the other, resulting in a rather organic, even sultry absorption of finesse, like an abstract opulence of hypnosis and enchantment. Pulsating beats, varied voices (sermonising, whispering, narrating, sighing, chanting, summoning, envenoming, growling, demonizing and invoking), hallucinogenic soundscapes, alienated industrialisations, mechanical pulses and transcendental waves of noise un equivocally enrich the 'Visionary Industrial Dark Ambient', as the label describes this aural niche so beautifully.
There's time for some experimentation once again, but it stands far away from any form of neo-progressive investigation or superfluous exaggeration. The title-track, for example, has those floaty guitar-melodies, but it does not evolve into some absurd fixture. And that characterises the whole of the album, which sounds, despite its lengthy duration and its bizarre, specific conceptualisation, truly magnificent, addictive, comfortable and satisfying at the very same time.
This isn't but my personal opinion, and therefor totally subjective, but since I did mention the permanent evolution of Haiku Funeral and their Aural Art, I cannot but consider their last album, Drown Their Moons In Blood, as their highlight. So I'll keep it short this time; nothing more to add, except for: 101/100!
https://aestheticdeath.bandcamp.com/album/drown-their-moons-in-blood
https://haikufuneral.bandcamp.com/album/drown-their-moons-in-blood
https://www.aestheticdeath.com/releases.php?mode=singleitem&albumid=5243
https://www.concreteweb.be/reviews/haiku-funeral
https://www.concreteweb.be/reviews/haiku-funeral-0
https://www.concreteweb.be/reviews/haiku-funeral-1