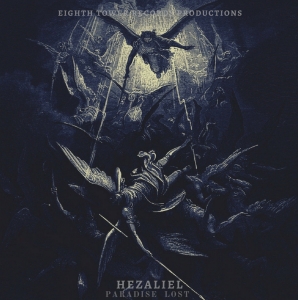 Some weeks ago, I came in touch with the very sympathetic Italian guy Raffaele Pezzella, who's the very same guy behind the great project Sonologyst. In a (near) future, I will write and publish a review on their latest album Silencers, by the way, which is available via Cold Spring Records as from yesterday. Deep investigation done by undersigned taught me that Raffaele is the very same guy who runs Unexplained Sounds Group, which must be one of the most open-minded labels within the international Experimental / Ambient / Drone / Minimal scene. And not that very long ago, he created a sub-label too, Eighth Tower Records, which totally blew me away with some magnificent releases. You need to check out their Bandcamp-pages (https://unexplainedsoundsgroup.bandcamp.com & https://eighthtowerrecords.bandcamp.com)!
Anyway, via Eighth Tower Records, we can enjoy the first album of Hezaliel. This project is an outfit by Belgian musician Steve Fabry, the guy behind acts like Sercati or The Nightstalker, and (previously?) involved as well with Coliseum. For both Coliseum or The Nightstalker you can find some reviews I did in the past, in case of interest (though from sonic point of view, it differs from what this specific project stands for - http://www.concreteweb.be/reviews/coliseum - http://www.concreteweb.be/reviews/nightstalker-1 - http://www.concreteweb.be/reviews/nightstalker - http://www.concreteweb.be/reviews/nightstalker-0). The album's concept deals with John Milton's epic masterwork Paradise Lost, about Lucifer's revolt against God, the fall of mankind after Eve's seduction by the snake (aka serpent, which actually gets used from time to time by Steve as his artistic name) and Adam's disobedience, and their exile from the Garden. Light versus darkness, devotion versus betrayal, obedience versus egocentricity, you know…
The cover image, by the way, is based on the same-titled and known work of Paul Gustave Doré – FYI.
I made him just and right, sufficient to have stood, though free to fall…
Paradise Lost is a fifty-minutes experience, divided unto eight titles. And as from opener The Pit Of Hell, you'll be subject to the hellish, post-apocalyptic and suppressive monumentalism of Hezaliel. Eerie drones, ominous sounds and heavy machinery come in a multi-layered symbiosis, creating a suffocative and industrialised soundtrack. It's like alien, but not of the astral kind, nor spacelike – rather focusing on that mostly uncomfortable feeling of being lost in a vast space, realizing your painful end is near, but not noticing when that end will actually take your mortal existence in a brutal, merciless manner. Feels lovely, not?! There's a static sound approach, and at the same time an energetic dynamism, resulting in diversified walls of sound pollution. A couple of excerpts are fairly spookier, then again gloomy, grim, occult or just bleak in a mostly uncomfortable way. The abyssal, somewhat diabolical negativism at the one hand, and the rich, epic harmonies at the other, are contrast that machinate in a contemplative and immersive aural experiment.
Impressive is not only the multi-layered levels of synths and sounds. The album hides, and divulges, many subtle aspects, and each listen reveals new elements, whether it be melodic fragments you did not notice yet, excerpts of post-industrial malignancy, manipulated sounds (like haunting voices in the distance, putting a spell on the listener), diverse field recordings, bizarre loops, or simply hypnotic minimalism that succeeds to intoxicate the listener's brain, rather than fading away into boredom. And as soon as you think that you've gone through the core, the album ends with the title song, which is like a mental shock. Dreamlike droning keyboard lines, ominous strings, natural sounds (wind and water?) and haunting female voices complete this metaphorical conceptual album, realizing that there's nothing left behind the edge of the end, except for eternal nothingness. It is almost beautiful, this mesmerizing ambiance, and the consciousness will not abnegate its fading away into oblivion…
Milton rewritten by Lovecraft and then translated into Aural Art, that might be an appropriate approach to this fabulous release. To my opinion, for what it might be worth, this is the best thing Monsieur Fabry has ever accomplished, by far. Let's hope this album will be nothing but a first part in a rich history under the Hezaliel banner…